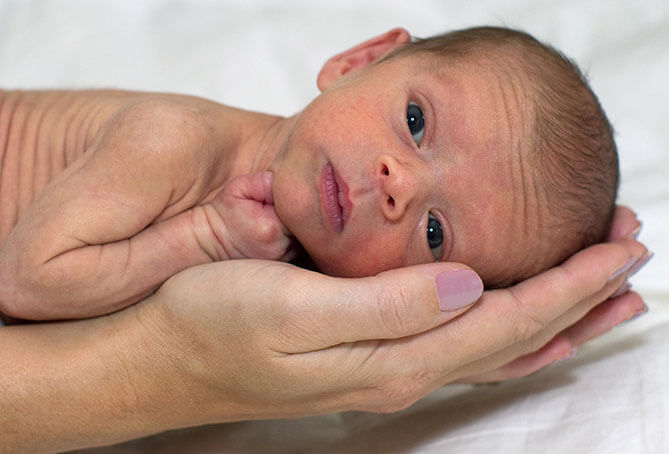 Transporting infants from a Neonatal Intensive Care Unit (NICU) safely requires highly specialized medical personnel as well as sophisticated medical flight equipment. AirCARE1 provides the most comprehensive newborn intensive care unit transport jet services available to domestic and International destinations worldwide.
What is an Airborne Neonatal Intensive Care Unit (ANICU)?
All mothers and children undergo physical and emotional changes following birth, and this is especially true in the event of a premature baby or one experiencing special medical challenges. There are times when the best possible care is only available at a hospital some distance from where the child was born, and in these instances air ambulance transportion may be the best option.
An Airborne Neonatal Intensive Care Unit (ANICU) provides the safest and most expedient way to transport a newborn experiencing complications from the transferring facility to a hospital offering additional care options. A baby must make many physical adjustments to life outside the mother's body and it is for that reason that all newborn intensive care units on our Learjets are equipped with advanced medical technology identical to what is found in the hospital neonatal unit, as well as personnel trained and experienced in using these lifesaving technologies.
Primary features of our neonate air medical transport jet:
Fully equipped medical level 3 neonatal intensive care unit
Well trained NICU nurses
NICU incubator
What other types of equipment do we have on our aircraft?
Our sophisticated equipment, including our Neonate Isollete, Cross Vent 2i ventilator, and Propaq monitor, combine to create a neonate patient care system that safely transports the newborn in a NICU environment to their destination.
Our medical team of highly skilled neonatal physicians, NICU nurses, and respiratory therapists have extensive neonate patient treatment and transport backgrounds. Each team member stands ready and able to stabilize, monitor, and comfortably transport the smallest and most fragile of patients. Our Learjet 35A jet aircraft are the best in the air and will fly your special tiny patient and a family member, faster, safer, smoother, and more comfortably than any other aircraft.
Request a Free Quote
We not only get you there faster and safer by employing the most advanced life flight technology — we also provide holistic care to create a unique, comforting experience. Please fill out the form below or call us at:
US: 1-877-760-7760 | International: 505-242-7760