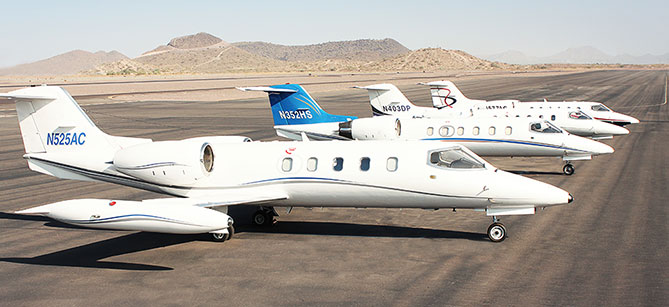 If you're in North Dakota and looking for an air ambulance service for yourself or a loved one, choose AirCARE1 for safe and reliable medical air transportation. We offer medical flights to clinics and hospitals within North Dakota, throughout the United States, and even internationally. Our top priorities at AirCARE1 are your health, safety, and comfort.
What We Do
AirCARE1 provides medical transportation and air ambulance flights to residents and visitors of North Dakota who require care while en route to further treatment elsewhere. If you or your loved one needs specialized care in another hospital or clinic all while needing medical attention we are here to help. Our fleet of Learjet aircraft can transport you quickly and safely, all while providing hospital-level healthcare thanks to our team of qualified medical staff.
We are an air ambulance company with a different approach than you'll see elsewhere. When you and your loved one fly with us, we strive to provide the same level of care that you would receive in a top hospital facility. Each flight has two qualified medical professionals on board who have received extensive training in air medical treatment. We use Airborne Critical Care Units, which are equipped with sophisticated monitoring systems, to transport patients to their treatment destination.
Why You Can Trust AirCARE1
Our pilots receive training on an annual basis, so you can relax knowing that you're in the hands of some of the most highly-skilled – and safest – staff in the industry. AirCARE1 has recieved dual-accredited by the European Air Medical Institute (EURAMI) and the Commission on Accreditation of Medical Transport Systems (CAMTS), one of the highest achievable honors in the air medical transportation industry.
We also understand that an air ambulance trip can be a stressful time for all involved. We offer comfortable interiors, theraputic music through noise cancelling headsets, hand massage and other holistic therapies to help you feel calm during transport to your destination. AirCARE1 looks at the bigger picture – whether you're using our services for yourself or have arranged a flight for a loved one, we know how distressing medical transportation can sometimes be, and we are committed to deliver an experience that's peaceful and relaxing.
Choose AirCARE1 for Air Ambulance Services in North Dakota
When you need an air ambulance in North Dakota, choose AirCARE1 to help you or your family member get on the road to recovery faster. Let us focus on transportation so you can focus on what matters most to you – regaining your health or looking after your loved one. From Bismarck to Fargo and everywhere in between, we're here for you in North Dakota. We'll take some of the stress and worry out of your journey. Contact us at 877-760-7760 or click here for a free, no-obligation quote.
North Dakota Airports We Fly To
Looking for an air ambulance in North Dakota (ND)? AirCARE1 provides air ambulance and medevac service to many cities in ND. Here are just a few of the airports in North Dakota that we fly to:
Bismarck, ND United States; Bismarck Municipal Airport
Devils Lake, ND United States; Devils Lake Rgnl Airport
Dickinson, ND United States; Dickinson Theodore Roosevelt Regional Airport
Fargo, ND United States; Hector International Fargo Airport
Grand Forks, ND United States; Grand Forks International Airport
Hazen, ND United States; Mercer County Rgnl Airport
Jamestown, ND United States; Jamestown Regional Airport
Minot, ND United States; Minot International Airport
Tioga, ND United States; Tioga Muni Airport
Wahpeton, ND United States; Harry Stern Airport
Williston, ND United States; Sloulin Field International Airport