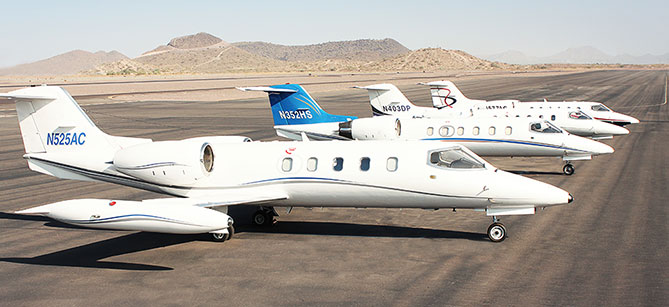 Do you need to consider an air ambulance service in Missouri for yourself or a loved one? Whether you need to visit a hospital in another part of the state or require medical evacuation to another treatment center in the US, AirCARE1 has the facilities and the training to provide you and your family member with the safe treatment and level of professionalism that you deserve.
If you live in a remote part of the state and require medical treatment, driving to your destination may not be the safest or more comfortable way to do it. Anyone who requires constant care due to either a chronic illness or a life-threatening condition will need medical attention throughout the journey. For long trips, our fleet of Learjet planes can take you and your family from multiple airports in Missouri to a clinic, hospital, or specialist treatment center, while ensuring that you are looked after from takeoff to landing.
Each AirCARE1 flight is staffed by a two-person medical team, who provide care that is on par with what you'd find in a leading hospital or clinic. In addition to their work as doctors, nurses, or physicians, they receive regular training in specialist air medical treatment so that they better understand the situations their clients face. This means that they can provide the best possible level of care until you arrive at your destination.
Our dedication to safety standards is second-to-none, with all of our pilots undergoing annual training to ensure that our clients receive the best possible experience during what is typically a very stressful time. AirCARE1 is accredited by both the Commission on Accreditation of Medical Transport Systems (CAMTS) as well as the European Air Medical Institute (EURAMI) – a rare feat in the medical evacuation industry. We are also one of just two preferred US service partners for the International Assistance Group, and our fleet of planes has its own FAA Air Carrier certification. This means that we have received authorization from the Department of Transport to provide our services.
The staff on board every AirCARE1 flight strive to create a relaxing atmosphere that puts you and your loved ones at ease. A host of complementary holistic treatments, such as massage and aromatherapy, are offered, and in-flight entertainment like music and movies can also be provided.
Choose AirCARE1 when you need medical evacuation services or an air ambulance in Missouri – there's no better provider in the country to take care of you or your family member. We take the stress and worry out of emergency treatment so that you can focus on recovery and regaining your health. Explore the list of airports we fly to and from, and call us at 877-760-7760 for a free, no-obligation quote.
Airports We Fly to in Missouri
Looking for an air ambulance in Missouri (MO)? AirCARE1 provides air ambulance and medevac service to many cities in MO. Here are just a few of the airports in Missouri that we fly to:
Branson, MO United States; Branson Airport
Branson West, MO United States; Branson West Muni – Emerson Field Airport
Cape Girardeau, MO United States; Cape Girardeau Regional Airport
Clinton, MO United States; Clinton Memorial Airport
Columbia, MO United States; Columbia Regional Airport
Dexter, MO United States; Dexter Muni Airport
Fort Leonard Wood, MO United States; Waynesville St Robert Regional/Forney Field Airport
Jefferson City, MO United States; Jefferson City Memorial Airport
Joplin, MO United States; Joplin Regional Airport
Kaiser, MO United States; Lee C Fine Memorial Airport
Kansas City, MO United States; Charles B Wheeler Downtown Airport
Kansas City, MO United States; Kansas City International Airport
Kennett, MO United States; Kennett Memorial Airport
Kirksville, MO United States; Kirksville Regional Airport
Lebanon, MO United States; Floyd W. Jones Lebanon Airport
Malden, MO United States; Malden Rgnl Airport
Marshall, MO United States; Marshall Memorial Muni Airport
Mexico, MO United States; Mexico Memorial Airport
Moberly, MO United States; Omar N Bradley Airport
Monett, MO United States; Monett Muni Airport
Mosby, MO United States; Midwest National Air Center Airport
Mountain View, MO United States; Mountain View Airport
Neosho, MO United States; Neosho Hugh Robinson Airport
Nevada, MO United States; Nevada Muni Airport
Perryville, MO United States; Perryville Muni Airport
Poplar Bluff, MO United States; Poplar Bluff Muni Airport
Rolla/Vichy, MO United States; Rolla National Airport
Sedalia, MO United States; Sedalia Rgnl Airport
Sikeston, MO United States; Sikeston Memorial Muni Airport
Springfield, MO United States; Springfield/Branson National Airport
St Joseph, MO United States; Rosecrans Memorial Airport
St Louis, MO United States; Lambert St Louis International Airport
Washington, MO United States; Washington Rgnl Airport
West Plains, MO United States; West Plains Rgnl Airport