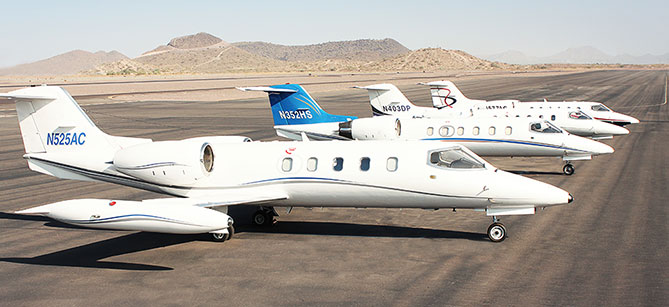 Whether you're craving remote wilderness or seeking a high-tech urban mecca, you will find it all in Idaho. As beautiful and wild as it is modern, Idaho lets you seamlessly transition from the comforts of Boise, to luxurious resorts, to miles upon miles of pristine mountains, forests, and farm fields.
But remote terrain and great distances inevitably pose a risk of serious illness or injury in areas that are so far away and/or impassable as to rule out timely medical response using standard emergency vehicles. Fortunately, through AirCARE1, Idaho has an air medical transport option that ensures swift and safe transportation to major medical facilities in a state-of-the-art intensive care setting no matter where in Idaho you venture or reside.
What Is AirCARE1?
AirCARE1 is a premier long-range air ambulance provider that uses our own fleet of Learjet 35A jets equipped with Airborne Critical Care Units to transport you and your loved ones between varied types of destinations throughout Idaho, from urban to remote. Our comprehensive approach combines executive aircraft interiors, highly qualified medical professionals, and top-of-the-line equipment – including our signature LifePort Patient Care System – to deliver medical services comparable to the best available care in premier medical facilities.
We offer specialized transport, monitoring, and equipment for neonates, pediatric, geriatric, bariatric patients as well as adults. Our aircrafts can accommodate numerous patient conditions, including trauma, respiratory and cardiac distress, and head injuries. Sophisticated advanced life support equipment can be found on every flight.
AirCARE1 is accredited by both the Commission on Accreditation of Medical Transport Systems (CAMTS) and the European Air Medical Institute (EURAMI). Such dual accreditation is a rarity for air ambulance services and demonstrates our commitment to a higher standard of service.
What Services Are Included and Which Ones Will I Need?
We will make sure you are in good hands every step of the way to ensure your loved one's optimal care and safety. An AirCARE1 flight coordinator will help you determine the appropriate services for your needs, and will provide you with an all-inclusive quote within 30 minutes. Our services include:
24-hour dispatch
Bedside-to-bedside care
Arrangement of all ground transportation
Coordination with your insurance company
Help in finding a room at the receiving facility
A post-flight follow-up
Advice on air transportation
International service
Who and What Can I Expect on Board?
AirCARE1 employs a stringent hiring process to recruit only the best and most experienced medical personnel. In addition to two highly experienced pilots, the flight crew includes at least two medical professionals: a critical care nurse with a background in ICU, CCU, or ER, and a nationally registered critical care paramedic or registered respiratory therapist. All receive supplemental training in flight physiology. Other medical specialists, including physicians, will join the flight as called for by the individual needs of the patient.
To further enhance in-flight patient comfort and ease stress, we employ soothing holistic methods utilizing noise-cancelling headsets with therapeutic music, hand massages, and aromatherapy. On longer flights, patients and family members have access to In-Flight movies for their enjoyment.
So feel free to enjoy Idaho in all its glory and rest assured that AirCARE1's double-certified air ambulance service will take care of you and your loved ones in case of emergency regardless of where you may find yourself – whether on a mountain ski adventure, lumber run, fishing trip, or dinner at the farmstead.
Idaho Airports We Fly To:
Looking for an air ambulance in Idaho? AirCARE1 provides air ambulance and medevac service to many cities in ID. Here are just a few of the airports in Idaho that we fly to:
Arco, ID United States; Arco-Butte County Airport
Boise, ID United States; Boise Air Terminal Gowen Field Airport
Caldwell, ID United States; Caldwell Industrial Airport
Coeur D'alene, ID United States; Coeur D'alene/Pappy Bovington Field Airport
Driggs, ID United States; Driggs-Reed Memorial Airport
Grangeville, ID United States; Idaho County Airport
Hailey, ID United States; Friedman Memorial Airport
Idaho Falls, ID United States; Idaho Falls Regional Airport
Jerome, ID United States; Jerome County Airport
Kellogg, ID United States; Shoshone County Airport
Lewiston, ID United States; Lewiston-Nez Perce County Airport
Mc Call, ID United States; Mc Call Municipal Airport
Mountain Home, ID United States; Mountain Home Municipal Airport
Nampa, ID United States; Nampa Muni Airport
Paris, ID United States; Bear Lake County Airport
Pocatello, ID United States; Pocatello Regional Airport
Salmon, ID United States; Lemhi County Airport
Sandpoint, ID United States; Sandpoint Airport
Twin Falls, ID United States; Magic Valley Regional/Joslin Field Airport