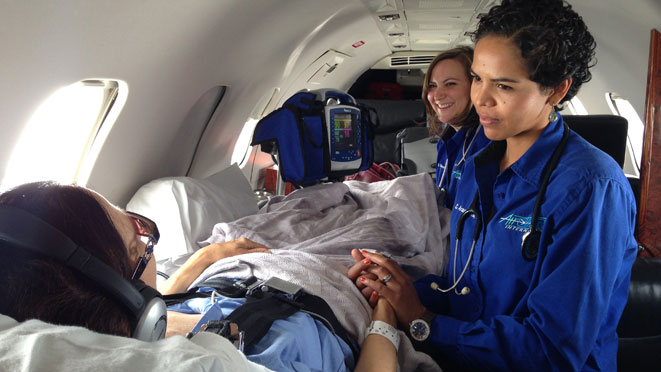 Time is critical in medical emergencies. How quickly and efficiently a patient is transported to an appropriate level of care can make the difference in terms of long-term health and survival. Unfortunately, poor road accessibility, traffic, and a lack of available transportation can make this race against the clock dangerous. In some case, distance is also a factor, and this is where air ambulance transport may be the most prudent and caring alternative.
Air ambulances are often equipped with various types of treatment options including medicine, monitoring units, stretchers, CPR equipment and ventilators. The type of apparatus varies from one air ambulance service to another, but the common objective is to ensure that the patient receives emergency medical treatment in order to stabilize their condition before they get to the hospital. This is one of the most important aspects you should research before you choose which air medical transport company to use.
But how did air ambulances start? Air medical transport started among military teams when they used aircraft to transport injured soldiers back to their camps for treatment. This was first used in 1870 to transport injured French soldiers using a hot air balloon during the Siege of Paris. However, it was not until the First World War when aeroplanes started to become a more commonly used weapon of war that the use of air ambulances started to gain ground.
During this time Germany used air medical transport to evacuate wounded soldiers from the front lines. The US military forces also relied on air transport to move injured soldiers during the Korean and Vietnam wars. From those early days, reliance on air medical transport has become ingrained in militaries across the world. The efficiency of air ambulances in military services soon transitioned into the civilian medical services arena.
As you would expect from any service industry, not all air medical transport service providers are the same or provide the same level of quality or service. There are things you need to consider when choosing the air ambulance that is most suitable for you. First, check if the firm is properly registered and licensed. Unfortunately, most states in the U.S. do not have strong regulation around air ambulance services. Thus, you may need to gauge the firm against best practice. Go for services that are well equipped and demonstrate a qualified, trained and skilled staff.
Next, be clear on whether you are negotiating with a broker or the air ambulance firm itself. This is important, not only because some brokers are inconsistent and unreliable, but also because using a broker may cause you to pay more in commission fees. It's always important to go directly to the air ambulance service.