Request a Free Quote
Welcome to a different kind of air ambulance service.
We not only get you there faster and safer by employing the most advanced technology — we also provide holistic care to create a unique, comforting experience. To speak with our rapid-response team immediately, please call 1-877-760-7760 or click the button to the right.
Request a Free Quote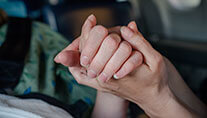 Holistic Care
Soothing music, therapeutic hand massage and aromatherapy are provided on every flight, creating a relaxing environment and a more comfortable experience.
Learn More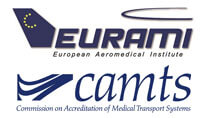 Dual Accreditation
We've been awarded both the CAMTS and EURAMI air ambulance accreditations. Dual accreditation is a rarity for air ambulance services, and this demonstrates our commitment to a higher standard of service.
Learn More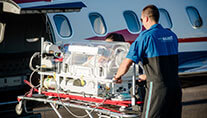 State-of-the-Art Equipment
Our aircraft are fully-equipped Airborne Critical Care Units. The patient travels on a custom designed LifePort patient care system that is equipped with highly-advanced monitoring and therapeutic systems.
Learn More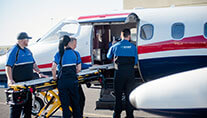 Greater Safety & Care
Our entire team has undergone rigorous training that exceeds industry standards. This elevates our service to the level of a premier medical facility and is one of the reasons for our dual-accreditation.
Learn More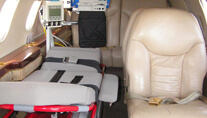 Enhanced Comfort
Our elegant, first-class interiors were initially designed for business executives. They will make your flight even more comfortable and enjoyable.
Learn More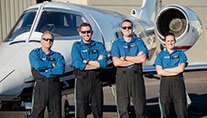 Highly Trained & Specialized Team
Providing piece of mind while you fly with our most caring and compassionate team of medical professionals.
Learn More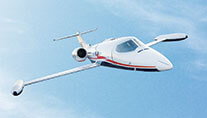 A Smoother Ride
Our aircrafts feature state-of-the-art Reduced Vertical Separation Minimum (RVSM) systems, allowing flight higher than commercial airline altitudes & assuring a smooth ride for the patient.
Learn More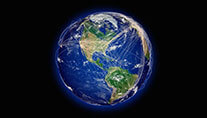 International Service
No international country is too far to fly. If your destination has an airport, we'll get you there in safety and comfort.
Learn More
Las Vegas is well known for its Strip, a roughly four-mile stretch of Las [...]
The Land of Enchantment is filled with surprises. Take a journey with us through the great state and learn everything you need to know about New Mexico along with a few things that no one probably needs to know.
Scottsdale, Arizona is situated within the amazing boundaries of the Sonoran Desert just 12 [...]
Special thanks to the medical crew and two pilots for being so careful and making our trip so comfortable and for allowing me to hold our little puppy in my arms on the flight. You took all the stress away and we can't thank you enough. You are all simply amazing!!! Thank you so much for everything you do!

Kathy Holmwood,

Spouse of Patient
Thank you so much for providing superior service. The pilots and medical staff were so caring and professional. The pilots made the trip so pleasant in spite of the circumstance. Their gracious welcome and kindness is so much appreciated.

Dolores Herrera,

Frances's daughter
This is the first time I referred a patient to your company and must state that Denise, Monica and all the staff members have been compassionate, professional and a joy to work with since the onset of the referral process.

Hulya Sansoy,

Case Manager
Air Ambulance Service by AirCARE1
AirCARE1 is a long range air ambulance provider utilizing Learjet 35A's—airborne intensive care units— to transport patients in safety and comfort throughout the United States, Canada, Central and South America, as well as destinations worldwide.
AirCARE1 is Accredited by the Commission on Accreditation of Medical Transport Systems (CAMTS) and the European Air Medical Institute (EURAMI).   Dual accreditations is a rarity for air ambulance services and demonstrates our commitment to a higher standard of service.
AirCARE1 is licensed as a critical/specialty care air ambulance provider.  Our two person medical team—consisting of critical care nurses, paramedics, respiratory therapists, as well as physicians as needed—transport our patients, from neonates through adults, bedside to bedside while providing  the highest level of
air medical transport
 care.
AirCARE1's proprietary combination of executive quality aircraft interiors, specialized on-board equipment, and highly-trained personnel, combine to produce a very pleasant medical environment. We deliver outstanding medical services equal to the best care available in premier medical facilities, while providing safety and comfort for our patients and their traveling companions.
To further enhance our air ambulance patient care, we employ holistic methods utilizing noise cancelling headsets with therapeutic music, hand massages, and aromatherapy to help reduce anxiety and stress, as well as creating overall peace of mind.
AirCARE1  owns and operates our fleet of aircraft under our own operating certificate.  We have a stellar safety record and are highly experienced in facilitating every aspect of the patient transport.
The hallmarks of our service are life port patient care systems, safety, customer service, reliability, and good value.