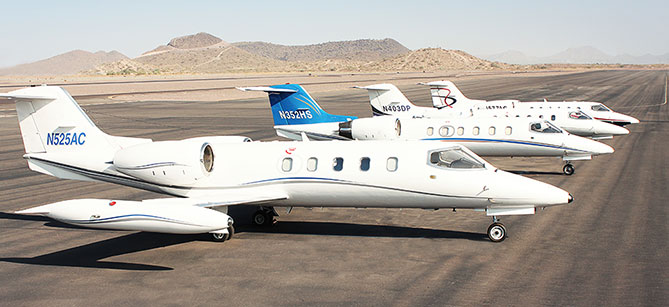 From remote hiking trails along the Canadian border to crevasses on Mount Rainier, air ambulances provide adventurers with rapid emergency access to healthcare facilities. For the less adventurous, air ambulances connect rural areas with cosmopolitan medical centers. Air ambulances are called to action in the event of heart attacks, road accidents or other medical emergencies.
You may have already heard of air ambulances, or may have confused them with the medical helicopters in the air or on television. Here's a breakdown of what they are and how they can benefit you.
What is an air ambulance?
Air ambulances are fixed-wing aircraft that provide in-flight care that is comparable to that found in a hospital emergency room. Air ambulances are not the helicopters that are often seen in movies or television, although they are capable of reaching remote areas or regions with limited road access. Air ambulance services coordinate with ground transport and medical facilities to ensure that patients arrive to their destination rapidly, all while optimal care and services are provided.
Air ambulances are staffed with certified and well-trained medical professionals who provide the patient with top-grade care while in transit.
Air ambulance benefits
When compared to ground ambulances, air ambulances are faster and are not restricted to travel along established infrastructure. When compared to helicopters, air ambulances provide a more stable, comfortable ride.
AirCARE1 air ambulances are accredited by both the Commission on Accreditation of Medical Transport Systems (CAMTS) and the European Air Medical Institute (EURAMI). Flights are staffed by critical care nurses, respiratory therapists, and paramedics. Physicians are on-call to fly as needed.
Additionally, air ambulances can be arranged in advance. Working with an air ambulance provider, clients establish their route and staff requirements. Patients are able prep for every contingency prior to an emergency. They can also ask questions which increases their confidence and comfort with the service.
Other AirCARE1 air ambulance benefits include:
Bedside-to-Bedside Service
Top of the Line Lear 35A Jets
Executive Quality Aircraft Interiors
Industry Leading Quality Assurance
Holistic Care Including Noise Reduction Headphones
If you, or a loved one, live in rural Eastern or Central Washington, and have a known medical condition, air ambulances are able to transport you quickly and comfortably to major medical facilities in Spokane or Seattle. Air ambulances are especially helpful to those living in areas that are underserved medically, and those that lack access routes and infrastructure. Driving long-distance during summer construction season, or during the winter when passes suddenly close, can impede timely medical interventions.
Air ambulances provide reliable, comfortable, smooth transit to patients, care providers and loved ones regardless of season.
What types of patients does AirCARE1 serve?
Air ambulances provide full medical service for neonates, pediatric patients, bariatric patients, geriatric patients and individuals in need of emergency medical attention.
Meeting with AirCARE1 professionals for a customized care plan and quote will bring peace of mind. Call us today for a free quote.
Airports We Fly to in Washington
Looking for an air ambulance in Washington? AirCARE1 provides air ambulance and medevac service to many cities in WA. Here are just a few of the airports in Washington that we fly to:
Arlington, WA United States; Arlington Muni Airport
Bellingham, WA United States; Bellingham International Airport
Bremerton, WA United States; Bremerton National Airport
Burlington, WA United States; Skagit Rgnl Airport
Chehalis, WA United States; Chehalis-Centralia Airport
Deer Park, WA United States; Deer Park Airport
Ellensburg, WA United States; Bowers Field Airport
Ephrata, WA United States; Ephrata Muni Airport
Everett, WA United States; Snohomish County/Paine Field Airport
Fort Lewis/Tacoma, WA United States; Gray Aaf Airport
Hoquiam, WA United States; Bowerman Airport
Moses Lake, WA United States; Grant County International Airport
Olympia, WA United States; Olympia Airport
Pasco, WA United States; Tri-Cities Airport
Port Angeles, WA United States; William R Fairchild International Airport
Pullman, WA United States; Pullman/Moscow Rgnl Airport
Renton, WA United States; Renton Municipal Airport
Seattle, WA United States; King County International Boeing Field Airport
Seattle, WA United States; Seattle Tacoma International Airport
Shelton, WA United States; Sanderson Field Airport
Spokane, WA United States; Spokane International Airport
Tacoma, WA United States; Tacoma Narrows Airport
Vancouver, WA United States; Pearson Field Airport
Walla Walla, WA United States; Walla Walla Regional Airport
Wenatchee, WA United States; Pangborn Memorial Airport
Winthrop, WA United States; Methow Valley State Airport
Yakima, WA United States; Yakima Air Terminal/Mcallister Field Airport