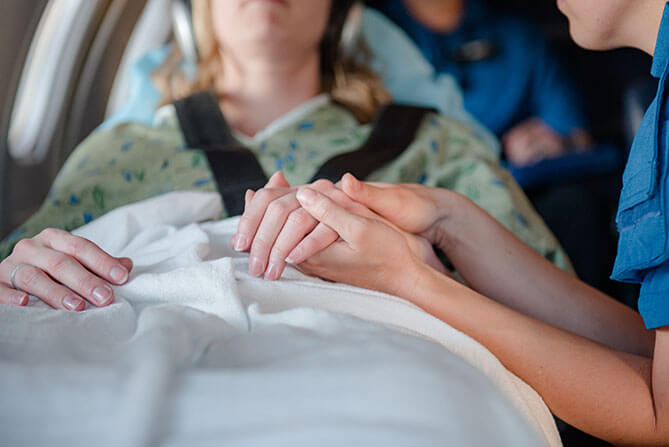 The mission statement of AirCARE1 is to "Do what is right for our patient at all times as we transport them with exceptional care equal to or better than the best premiere medical facility."
Providing exceptional quality of care requires having the right people, the right equipment, the right training, and the right attitude.
AirCARE1 employs a stringent hiring process resulting in having only the very best qualified medical personnel on board our aircraft. Our seasoned medical professionals have years of experience in the critical patient care arena. This extensive experience enables our team to utilize superior critical thinking skills while taking care of even the most complex patient care needs.
Not only do we provide a seasoned medical team for your patient, our critical care nurses, paramedics, respiratory therapists and physicians are some of the most caring and compassionate healthcare providers in the industry.
The team operates under the direction of our Medical Director who has over 20 years of emergency room experience as well as being a private pilot with extensive flight experience. Our Medical Director is very active in AirCARE1 operations and oversees all aspects of the patient transport as well as providing quality assurance for each flight.
Utilizing a unique approach to patient care, our team provides noise cancelling headsets with therapeutic music, as well as hand massages utilizing aromatherapy. On longer flights, patients and family members have access to in-flight movies. These amenities combine to create a sense of peace and calm during a difficult time.
The AirCARE1 lifeport patient care system allows our team to continuously monitor and safely transport the most critical of patients from neonates through adults. Our monitoring system assures the most accurate, efficient and reliable information is provided during transport.
Our executive quality LearJets provide a safe and comfortable environment for your patients during their transport. This combination of extraordinary service and quality of care provides unprecedented peace of mind to your patients and their family members.