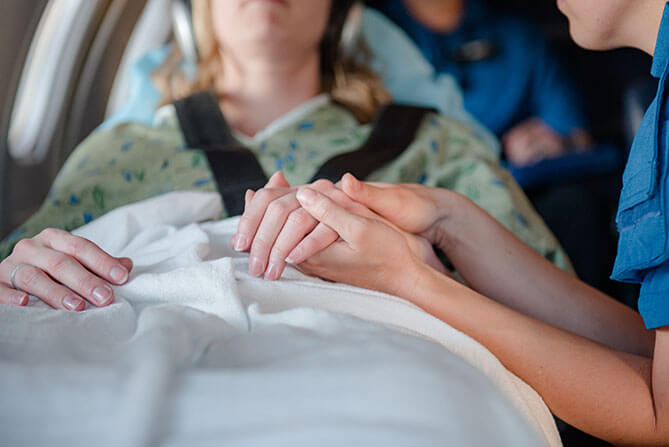 This section is written specifically for patients and family members who need an air ambulance service. Choosing an air ambulance service can be daunting and requires understanding of what you need to know before you book an air ambulance. We have put great thought into our website and have designed it specifically to help make your research as educational and informational as possible.
Please take advantage of the links throughout this article. These links will provide you with the tools to help you navigate your decision making process in choosing the best air ambulance provider for you or your family member.
First, our Air Ambulance resource guide provides answers to many commonly asked questions. You probably have many questions needing to be answered. This resource guide is a great starting point in preparing you to navigate the world of air ambulance. .
How will you decide which air ambulance provider to choose? Download our easy to use comparison checklist. This checklist will help you do your due diligence when comparing air ambulance providers and help you select a reputable and well qualified air ambulance service.
To help you select the best aircraft for you or your family member during your air ambulance transport, download our aircraft comparisons checklist. This checklist will educate you on the different kinds of aircraft used in the industry and help you determine the best aircraft that should be used during your air ambulance transport.
Read about our exacting training requirements in our medical crew training & education section. In order to have the most qualified personnel to take care of patients in flight, medical crewmembers must go through rigorous initial training as well as continuing education and training. Read what is required and compare with other companies.
Go our accreditations page. One of the most important considerations in choosing an air ambulance company are the accreditations. Accreditations is a vetting process in the industry and provides a "Good Housekeeping" seal of approval.
As you continue to browse through our website you will understand why it is important to choose an air ambulance provider who has experience and expertise, exhibits the highest safety standards as well as abide by ethical business practices.
Finally, read about the AirCARE1 story to find out why we do what we do- it's a pretty amazing story!
Finally, after going through our website, if you still have more questions, we encourage you to call one of our knowledgeable communication specialist at 877-760-7760. They will be happy to spend the time to answer all of your questions to your satisfaction.
We wish you success in choosing the best air ambulance provider for you or your family member.
Request a Free Quote