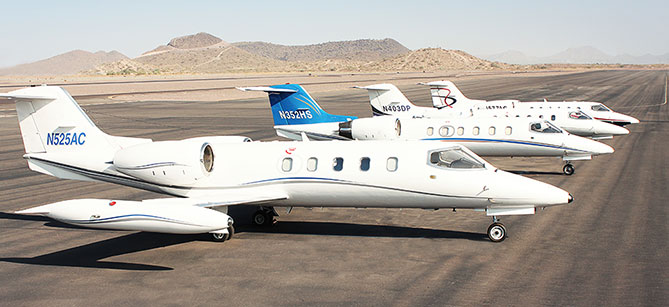 If you're searching for a trustworthy and dependable air ambulance service for a person who means alot to you, you can now breathe a sigh of relief. AirCARE1 offers reliable air ambulance services to people in traveling to and from Mexico. Our company employs innovative technology to get people in need swift access to high-quality professional medical services. Holistic care in the air is our specialtyhere at AirCARE1 which provides a relaxing, calming and healing environment for our patients.
Our airplanes Lear 35A jets feature modern equipment that patients can rely on. All jets are equipped with in-depth Airborne Critical Care Units. We carefully place all patients on customized LifePort patient care systems that includetherapeutic and monitoring benefits to provide additional peace of mind.
The staff members here at AirCARE1 are all highly trained. If you are looking for a reliable air ambulance service in Mexico from the most trustworthy and capable professionals in the industry, AirCARE1 will not let you down. Our aim here at AirCARE1 is to provide all of our patients with the finest, safest and most secure air ambulance assistance in Mexico. We're a respected air ambulance company that has dual accreditation from both EURAMI and CAMTS, our commitment to a higher standard for patient care
The various specialties we offer include geriatric/elderly patient transport, bariatric/obese patient transport, pediatric/child patient transport, neonate/infant patient transport as well as commercial medical escort services. If you are experiencing any type of emergency medical problem in Mexico, AirCARE1 can provide the quickest, most dependable and safest travel assistance around. Our bariatric patient transport assistance can be beneficial for persons who are suffering from severe obesity. Our neonate patient transport assistance can be life saving for infants. AirCARE1 helps infants safely travel with the assistance of top of the line medical equipment including a Propaq monitor, Cross Vent 2i ventilator and a Neonatal Isolette. Lastly, our commercial medical escort service helpsindividuals who are capable of traveling via a commercial airline, but need assistance from a trained nurse during their travel for peace of mind.
If you're looking for the finest air ambulance service Mexico has to offer, there's no better choice around than AirCARE1. Our capable medical staff offer dependable and efficient transportation assistance our customers can fully count on. If you need prompt assistance from respiratory therapists, paramedics and critical care nurses, you can always rely on our hard-working and motivated team members. Our expert medical staff are genuinely dedicated to providing our customers with the highest quality air ambulance services in the world. Individuals who need high-quality air ambulance assistance in Mexico can contact us 24/7 at AirCARE1.
Mexico Airports and States Serviced
AirCARE1 provides air ambulance and medevac service to many cities in Mexico. Here are just a few of the airports in Mexico that we fly to:
Mexico City Air Ambulance: Mexico City, Mexico – Lic Benito Juarez International Airport
Acapulco Air Ambulance: Acapulco, Mexico – General Juan Alvarez International Airport
Cancun Air Ambulance: Cancun, Mexico – Cancun International Airport
Puerto Vallarta Air Ambulance: Puerto Vallarta, Mexico – Lic Diaz Ordaz International Airport
Mazatlan Air Ambulance: Mazatlan, Mexico – Gen Rafael Buelna International Airport
Leon Air Ambulance: Leon, Mexico – De Guanajuato International Airport
Cabo San Lucas Air Ambulance: Cabo San Lucas, Mexico – Cabo San Lucas International Airport
Cabo San Lucas Air Ambulance: Cabo San Lucas, Mexico – Los Cabos International Airport
Cozumel Air Ambulance: Cozumel, Mexico – Cozumel International Airport
Guadalajara Air Ambulance: Guadalajara, Mexico – Don Miguel Hidalgo Airport
Tijuana Air Ambulance: Tijuana, Mexico – Gen Abel L Rodriguez Airport
Merida Air Ambulance: Merida, Mexico – Lic Manuel Rejon Airport
Guaymas Air Ambulance: Guaymas, Mexico – Gen Jose Maria Yanez Airport
Monterrey Air Ambulance: Monterrey, Mexico – Del Norte Intl Airport
Here are the list of states we fly to:
Chihuahua
Sonora
Coahuila
Durango
Oaxaca
Tamaulipas
Jalisco
Zacatecas
Baja California Sur
Chiapas
Veracruz
Baja California
Nuevo León
Guerrero
San Luis Potosí
Michoacán
Campeche
Sinaloa
Quintana Roo
Yucatán
Puebla
Guanajuato
Nayarit
Tabasco
México
Hidalgo
Querétaro
Colima
Aguascalientes
Morelos
Tlaxcala
About Mexico
Mexico is one of the most developed countries in Latin America but has also recently become one of the most dangerous countries in the region due to violence surrounding drug cartels. While the threat of violence is very real, Mexico remains a popular destination for travelers who tour the safer areas of Mexico City and tourist destinations such as the tropical beaches and Mayan ruins. The vast jungles in the south, coastal beaches on the Caribbean, and much more of the country can be safely enjoyed if you travel carefully.
Mexico contains the largest Spanish speaking population in the world and has created an identity for itself as a country that blends Spanish Colonial and Indigenous lifestyles into a new and defined Mexican culture. The country uses the Mexican Peso which is equivalent to about 1/13th of a dollar and has fairly developed transportation, economic, and health systems to service the country. The safest way to enter the country is to fly in and bypass the dangerous Border States; renting a car is the safest form of local transportation but is also more expensive than options such as taxis or buses. Theft is common so always be on the lookout for pickpockets and scams. Additionally, while many Americans view the Mexican police force as corrupt, most officers are honest and offering a bribe to a police officer can be a bad idea. Make sure to read the travel warnings on the US Embassy website before traveling to Mexico so you can better understand the risks of visiting the country and the precautions needed. Also make sure to carry the contact information of the Embassy with you and register with their STEP program at step.state.gov in case you require the assistance of the Embassy in an emergency. As usual, it is wise to obtain travelers insurance as well by visiting www.ustia.org to protect you from unforeseen costs.
Embassy Contact Information
U.S. Embassy Mexico City
Paseo de la Reforma 305
Colonia Cuauhtemoc
Mexico, D.F., Mexico C.P. 06500
Telephone: +(52)(55) 5080-2000
mexico.usembassy.gov