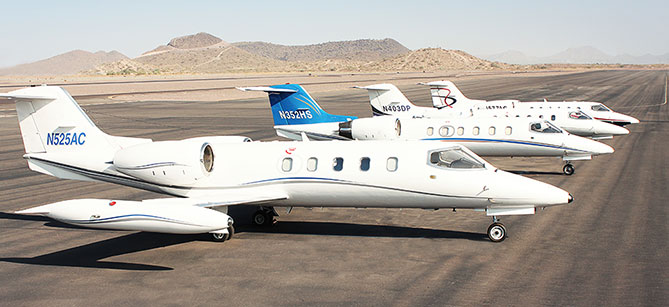 Are you in need of medical air transportation services in Maryland? AirCARE1 can transport you or your loved one to hospitals, clinics, and treatment centers throughout the state, across the United States, or even internationally.
Air ambulance services are useful for patients with chronic health conditions or injuries who are not able to go without medical attention while en-route to treatment. An air ambulance reduces travel times while also providing the same level of care you would find at a hospital, clinic, or specialized treatment center. If driving to your destination would take too long, is not possible or a road ambulance wouldn't provide the level of care you need while you're getting there, then an air ambulance could be your answer.
What We Do at AirCARE1
AirCARE1 uses a fleet of Learjets with executive quality interiors for our air ambulance services in Maryland and throughout the country. Each flight is staffed by two highly-qualified pilots, who undergo regular safety trainings, as well as medical professionals who are trained in providing in-flight care. This may be a doctor, nurse, a general physician, paramedic, or respiratory therapist depending on your medical needs or that of your loved one. Our medical staff members also receive regular training in in-flight medical care, so you may be comforted in knowing that you are receiving the best possible care while on board. We use Intensive Care Units (ICUs) that feature the latest patient monitoring and recording systems and which are specifically designed for air medical transfers.
What Makes AirCARE1 Different
We don't just provide transportation to the hospital or treatment center. At AirCARE1, we believe in ensuring that your flight is as calm and relaxing as possible because we know how stressful medical transport can be. We offer therapeutic music through noise cancelling headsets, as well as holistic therapies such as hand massage and aromatherapy, to help mitigate any feelings of anxiety you might have about the journey. Our staff are there to support you and your loved one in any way possible.
Our standards of care are the highest in the field as we are dual-accredited by the CAMTS and EURAMI professional associations, a rare honor in the air ambulance industry. We are also one of just two preferred providers in the US for the International Assistance Group (IAG). When you choose us for your air ambulance needs to or from Maryland, you know you'll be in good hands.
AirCARE1 – Your Trusted Air Ambulance Provider
Whether you need an air ambulance to get to a treatment center in Maryland, the surrounding states, across the US, or even internationally, you can rely on AirCARE1 to provide you with a first-class experience. You may view a list of the Maryland airports that we fly to below and get in touch by calling us at 877-760-7760 for a free, no-obligation quote.
Maryland Airports We Fly To
Here is a list of airports in Maryland that we fly to:
GREATER CUMBERLAND RGNL, CUMBERLAND, MD
EASTON/NEWNAM FIELD, EASTON, MD
MARTIN STATE, BALTIMORE, MD
ANDREWS AFB, CAMP SPRINGS, MD
FREDERICK MUNI, FREDERICK, MD
HAGERSTOWN RGNL- HENSON, HAGERSTOWN, MD
GARRETT COUNTY, OAKLAND, MD
SALISBURY-OCEAN CITY WICOMICO, SALISBURY, MD
WEBSTER NAVAL OUTLYING FIELD, ST INIGOES, MD
CARROLL COUNTY RGNL/JACK POAGE, WESTMINSTER, MD