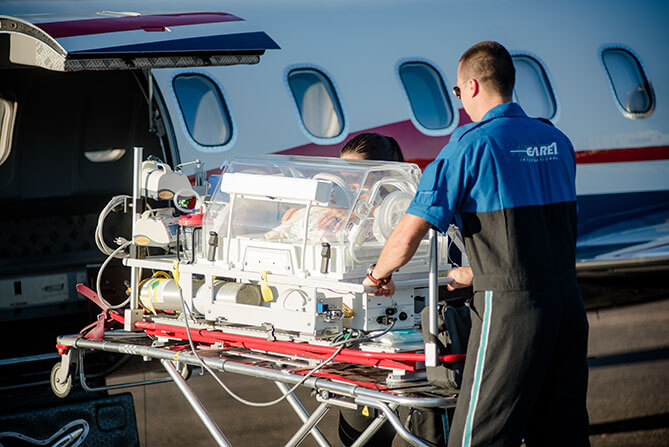 Airborne Critical Care Unit
All AirCARE1 aircraft are equipped as Airborne Critical Care Units. The core of the Airborne Critical Care Units is our signature LifePort Patient Care System.
AirCARE1 is the ONLY air ambulance company whose jets are uniquely equipped with the following:
A thicker 4-inch mattress pad
A monitor bracket attached to the stretcher for securing the patient monitoring equipment
An adjustable knee lift
Increased Patient Comfort
This customized LifePort patient care system, built to our specifications, includes many unique features not commonly seen in the industry. We are the ONLY air ambulance company in the nation with a mattress pad upgraded to four inches (industry standard is 2 inches). We can provide this enhanced level of equipment and support as our Lear 35A aircraft has been modified exclusively for air ambulance.
Preventing Injuries and Relieving Discomfort
A bracket attached to the stretcher for securing the patient monitoring equipment allows for continuous monitoring of the patient, even during loading and unloading (again, better than the industry standard.). This bracket ensures the equipment will never shift during flight, eliminating the potential for injury to patients and staff.
We are unique in the industry in having an adjustable knee lift to prevent the patient from sliding down the stretcher during takeoff and landing. The knee lift has the added benefit of enhancing patient comfort during the flight. The knee lift provides significant relief to the discomfort felt by patients while lying on the LifePort patient care stretcher.
Loading and unloading the patient into the aircraft can be a stress-inducing experience for the patient, the family, and the air medical transport flight team. To eliminate any complications during this critical stage of the air ambulance process, we are one of a very few companies that incorporates a mechanical loading/unloading system. Our loading ramp prevents any tipping, tilting or wobbling of the patient while they are being transferred safely in and out of the aircraft, providing the safest loading method in the industry
Caring for Someone's Loved One
We offer our premium Airborne Critical Care Unit and all of the extra quality-of-care features because we understand we're not transporting just a body, we are caring for your loved one.