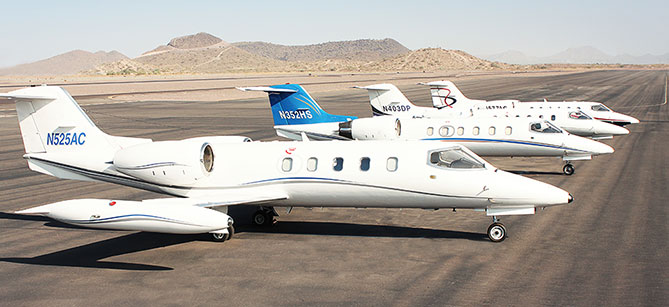 AirCARE1 is a fully-licensed, operational air ambulance service providing hospital transport to and from Indiana. Utilizing state-of-the-art Learjet aircraft, the AirCARE1 medical transport team offers a wide spectrum of services, including pediatric, bariatric, neonatal, and emergency (not including evacuation) care. AirCARE1 maintains the highest standards for in-flight emergency care agencies across the country. Our mission is to provide the highest standard of on-call care to all of our patients in a safe and comfortable environment, in conjunction with the standards and regulations detailed by governing medical bodies. AirCARE1 is a trusted leader in the emergency medical transportation industry. Our customer experience focuses on attention to safety procedures and risk mitigation coupled with our reputably fair prices. Whether you are in need of a medical-based flight to or from Indiana, AirCARE1 can meet your needs.
AirCARE1 owns a fleet of LearJet air ambulance planes. With one of the highest safety ratings in the industry, the LearJet has demonstrated its capacity for safely and efficiently transporting passengers to their required destinations, even in the most adverse weather conditions. With long-range capabilities, the aircraft is able to travel non-stop to many locations both in the US and abroad.
The Indiana air medical transport crew at AirCARE1 is distinguished by highly-trained professionals who are dedicated to patient satisfaction. Only the most qualified and experienced pilots occupy our cockpits, with each individual maintaining an ATP certification. These pilots are required to remain up-to-date on training and certification, along with the mechanics. The cabin is serviced by a two-person team consisting of nurses, paramedics, respiratory therapists, and/or physicians specializing in critical care. Utilizing advanced technology and equipment, the care that they provide is on par with the best available in ground medical facilities. Our staff undergo regular trainings to develop and practice their skills, making them confident in adapting to any medical situation and patient condition. Medical personnel are trained across the spectrum of emergency interventions, from assessments and monitoring to procedures, using Life Port patient care and monitoring systems. This is part of the AirCARE1 commitment to providing a paramount level of care and safety to our patients.
The trademark of AirCARE1 is our commitment to both patients and their families. Through using executive quality aircraft interior and top-notch on-board equipment, our mission is to provide all passengers with a comfortable medical environment throughout their trip. Each dedicated staff member is committed to prioritizing the needs of the patient and their family, tailoring a personalized experience unique to the passengers' needs. We recognize and value the importance of providing patients and their families with any additional comfort and courtesy during this potentially trying and painful time. When you choose to travel with AirCARE1, you are given our personal, trusted guarantee that your air transport experience will be complete with the highest-grade of medical care at an unbeatable value, a devotion to your safety and comfort, and hospitable, dependable customer service from booking until departure.
If you are in need of medical transportation to or from Indiana, please call us at 877-760-7760 or click here for a free no obligation quote.
Indiana Airports We Fly To
Here is a list of airports in Indiana that we fly to:
ANDERSON MUNI-DARLINGTON FIELD, ANDERSON, IN
DE KALB COUNTY, AUBURN, IN
HILLENBRAND INDUSTRIES, BATESVILLE, IN
MONROE COUNTY, BLOOMINGTON, IN
COLUMBUS MUNI, COLUMBUS, IN
METTEL FIELD, CONNERSVILLE, IN
ELKHART MUNI, ELKHART, IN
EVANSVILLE RGNL, EVANSVILLE, IN
FORT WAYNE INTL, FORT WAYNE, IN
FRENCH LICK MUNI, FRENCH LICK, IN
GARY/CHICAGO INTL, GARY, IN
GOSHEN MUNI, GOSHEN, IN
HUNTINGBURG, HUNTINGBURG, IN
HUGREENWOOD MUNI, INDIANAPOLIS, IN
NTINGTON MUNI, HUNTINGTON, IN
INDIANAPOLIS REGIONAL, INDIANAPOLIS, IN
INDIANAPOLIS EXECUTIVE, INDIANAPOLIS, IN
FRANKFORT MUNI, FRANKFORT, IN
INDIANAPOLIS INTL, INDIANAPOLIS, IN
KOKOMO MUNI, KOKOMO, IN
LA PORTE MUNI, LA PORTE, IN
PURDUE UNIVERSITY, LAFAYETTE, IN
LOGANSPORT/CASS COUNTY, LOGANSPORT, IN
MADISON MUNI, MADISON, IN
MARION MUNI, MARION, IN
DELAWARE COUNTY RGNL, MUNCIE, IN
NORTH VERNON, NORTH VERNON, IN
GRISSOM ARB, PERU, IN
RICHMOND MUNI, RICHMOND, IN
FULTON COUNTY, ROCHESTER, IN
FREEMAN MUNI, SEYMOUR, IN
SHELBYVILLE MUNI, SHELBYVILLE, IN
SOUTH BEND RGNL, SOUTH BEND, IN
TERRE HAUTE INTL- HULMAN FLD, TERRE HAUTE, IN
PORTER COUNTY MUNI, VALPARAISO, IN
Call our medical flight hotline for further details and information on US: 1.877.760.7760 | Int'l: 505.242.7760.