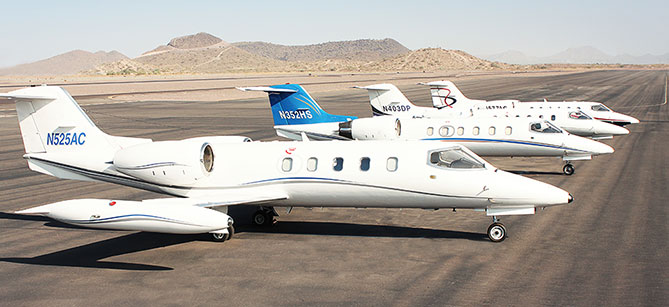 Chances are that everyone will eventually be forced to deal with a medical emergency sometime in his or her life. If you or a loved one experience such an emergency and require medical transport in and out of Illinois, then AirCARE1 is the solution you have been looking for. The dedicated professionals at AirCARE1 have made it their mission to provide the best air ambulance services for our patients in Illinois. We own a fleet of aircraft that can transfer patients comfortably and safely, whether they need to fly across the country or around the world to receive their medical treatment.
Your safety is our number one concern at AirCARE1. We make sure that all of the equipment we use, from the plane itself to all of the medical tools it carries, meets our extremely high standards. The flight crew on each trip includes two highly trained and experienced pilots who are required to continually train in order to ensure the safety of every patient we serve.
When you choose AirCARE1 as your air ambulance service provider in Illinois, you can be sure that the every member of the medical staff on board your flight considers your safety and comfort to be the most important aspect of the trip. The doctors, nurses, and paramedics who staff our flights bring with them years of experience and the expertise it takes to provide excellent care and manage any and all medical emergencies that may occur during the trip.
Because we understand how stressful a medical emergency can be, we go above and beyond to make our customers as comfortable as possible during their flights. From hand massages to aromatherapy, these services are all designed to help relax you and your loved one. We even provide noise-cancelling headphones and several entertainment options to help you pass the time and take your mind off the difficulty you may be experiencing.
Our team at AirCARE1 is proud to provide our customers with exceptional service, but your safety is the thing that drives us to do the best job we possibly can. Our commitment to meeting and even exceeding the incredibly high safety standards set by our industry has been recognized by the most prestigious organizations in the field. AirCARE1 is one of the few medical transport companies in the world to hold dual accreditation from the European Air Medical Institute (EURAMI) and the Commission on Accreditation of Medical Transport Systems (CAMTS).
Hopefully, you will never need to choose an air ambulance service provider for you or a member of your family, but if you should find yourself in that situation we would like the opportunity to serve you and guide you through the process. We invite you to contact one of our friendly AirCARE1 team members and let him or her answer all your questions about how we can help you.
Why Choose AirCARE1?
AirCARE1 specializes in air ambulance and medical transport flights to and from Illinois. With high tech air ambulance medevac jets, we safely transport you to or from your airport in Illinois.
Our Illinois air medical transport crew is highly trained and dedicated to get you to where you need to go. Ranging from emergency medical transport to neonatal patient care, we use sophisticated equipment along with relaxing environments to get you to your destination.
There are a variety of reasons why you should choose AirCARE1 like:
Efficient Learjet aircraft
Life Port patient care systems
Highly trained air crew
Continuous monitoring systems
AirCARE1 is fully licensed and up to date with all regulations and requirements for safe Illinois flights.
Here is a list of airports in Illinois that we fly to:
St Louis Regional Airport; Alton, IL
Central Illinois Regional At Bloomington Normal Airport; Bloomington, IL
St Louis Downtown Airport; Cahokia/St Louis, IL
Southern Illinois Airport; Carbondale/Murphysboro, IL
Centralia Municipal Airport; Centralia, IL
University Of Illinois-Willard Airport; Champaign/Urbana, IL
Chicago Executive Airport; Chicago, IL
Chicago O'hare International Airport; Chicago, IL
Chicago/Aurora Municipal Airport; Chicago, IL
Dupage Airport; Chicago, IL
Chicago Midway International Airport; Chicago, IL
Lewis University Chicago Romeoville Airport; Chicago/Romeoville, IL
Chicago/Waukegan Regional Airport; Chicago, IL
Vermilion Regional Airport; Danville, IL
Decatur Airport; Decatur, IL
De Kalb Taylor Municipal Airport; De Kalb, IL
Effingham County Memorial Airport; Effingham, IL
Flora Municipal Airport; Flora, IL
Albertus Airport; Freeport, IL
Galesburg Municipal Airport; Galesburg, IL
Harrisburg-Raleigh Airport; Harrisburg, IL
Jacksonville Municipal Airport; Jacksonville, IL
Greater Kankakee Airport; Kankakee, IL
Lawrenceville-Vincennes International Airport; Lawrenceville, IL
Macomb Municipal Airport; Macomb, IL
Williamson County Rgnl Airport; Marion, IL
Coles County Memorial Airport; Mattoon/Charleston, IL
Quad City International Airport; Moline, IL
Bult Field Airport; Monee, IL
James R. Washburn Field – Morris Municipal Airport; Morris, IL
Mount Sterling Municipal Airport; Mount Sterling, IL
Mount Vernon Airport; Mount Vernon, IL
Pekin Municipal Airport; Pekin, IL
Gen Wayne A Downing Peoria International Airport; Peoria, IL
Walter A Duncan Field/Illinois Valley Regional Airport; Peru, IL
Pontiac Municipal Airport; Pontiac, IL
Baldwin Field/Quincy Regional Airport Information; Quincy, IL
Call our medical flight hotline for further details and information on US: 1.877.760.7760 | Int'l: 505.242.7760.