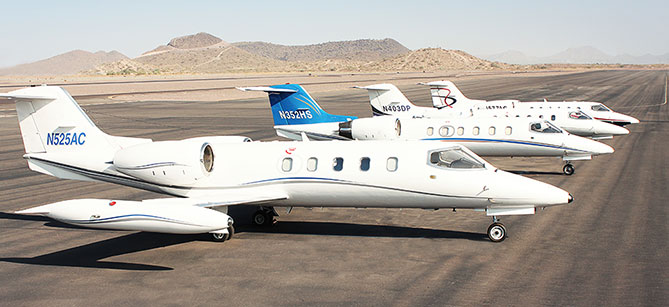 AirCARE1 is a fully licensed air ambulance and medical transport company with evacuation services to and from Hawaii. Utilizing our state-of-the-art Learjet aircraft, our medical transport team provides a wide range of services for various types of patients including neonatal, pediatric, bariatric, and geriatric. The standards maintained by AirCARE1 are among the highest for on-call, in-flight critical care agencies across the United States. Our mission and the governing principles of our crew is to provide quality care to all of our patients in a safe and comfortable environment. Attention to safety procedures and risk mitigation coupled with our reliable customer service and reputably fair prices make AirCARE1 a trusted leader in the medical evacuation industry.
AirCARE1 owns our own fleet of air ambulance aircraft, which is made up of the Lear Jet 35A. One of the safest aircrafts in the industry, it has demonstrated its ability to quickly and safely transport passengers to their required destinations, even in adverse weather conditions. The long-range capabilities of the aircraft allow for nonstop travel to almost any location in the United States. In the cockpit, we rely on only the most qualified and experienced ATP-certified pilots to transport our patients. These pilots are committed to remaining up-to date on training and certifications, as are our mechanics.
The Hawaii air medical transport crew at AirCARE1 is comprised of highly trained and compassionate professionals who are dedicated to patient satisfaction. Each flight is accompanied by a two-person team consisting of critical care nurses, paramedics, respiratory therapists, and/or physicians, who utilize advanced technology and equipment equal to the best care available in premier medical facilities. Our staff undergo regular training to develop and perfect their skills in order to quickly adapt to any medical situation and patient condition. Medical personnel are trained across a wide variety of medical interventions, from assessments and monitoring to direct interventions and emergency maintenance controls using the Life Port patient care and continuous monitoring systems. This is part of our commitment to providing the highest level of care and safety to our patients as possible.
The hallmark of AirCARE1 is our commitment to our patients and their families. By combining our executive quality aircraft interiors with our specialized on-board equipment, we aim to provide all passengers with a pleasant medical environment for the duration of the journey. Each highly-trained staff member is committed to putting the needs of our patients first, creating a personalized experience unique to the passengers' needs. We recognize and understand the importance of giving patients and their families the added comfort and peace of mind during this potentially trying time. When traveling with AirCARE1, you have our personal assurance that your medical air transport experience will be characterized by the best medical care at a great value, a dedication to your safety and comfort, and reliable customer service from booking until your final arrival.
Why You Should Choose AirCARE1
AirCARE1 specializes in air ambulance and medical transport flights to and from Hawaii. With high tech air ambulance medevac jets, we safely transport you to or from your airport in Hawaii.
Our Hawaii air medical transport crew is highly trained and dedicated to get you to where you need to go. Ranging from emergency medical transport to neonatal patient care, we use sophisticated equipment along with relaxing environments to get you to your destination.
There are a variety of reasons why you should choose AirCARE1 like:
Efficient Learjet aircraft
Life Port patient care systems
Highly trained air crew
Continuous monitoring systems
AirCARE1 is fully licensed and up to date with all regulations and requirements for safe Hawaii flights.
Call our medical flight hotline for further details and information on US: 1.877.760.7760 | Int'l: 505.242.7760.