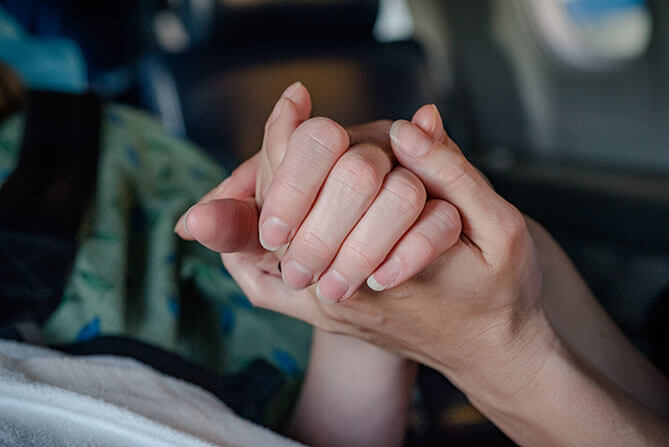 The Geriatric / Elderly Patient
A large portion of the population in America is aging. It is estimated that over 44.7 million people are over the age of 65 years old. This represents 14.1% of the U.S. population, about one in every seven Americans. Despite their age, many geriatrics are still actively travelling. When a geriatric person becomes sick or injured while away from home and requires medical evacuation, the medical crew can be faced with a host of challenges specific to the geriatric population.
These challenges include changes in physical or psychological capabilities that may increase the risk of air transport. AirCARE1 medical crew members are trained on the particular needs of the geriatric patient to mitigate the transport risk.
Special Needs of the Geriatric Patient
Travel Companions
During transport, it is important that the geriatric patient feels safe and secure while being cared for in a pleasant medical environment. This is especially important for those patients suffering from psychological diseases such as dementia or Alzheimer's. In these instances, refocusing and redirecting is a useful skill utilized by the medical crew in the cognitively dysfunctional geriatric patient.
Allowing travel companions to fly with the patient can also provide a source of great comfort and help refocus the patient if needed. While the patient may be frail, their loved one might be even frailer and have difficulty boarding the aircraft. AirCARE1 has designed special techniques utilized in boarding the frail family member so they are able to fly with their loved one.
Flight Physiology
Geriatric patients may also suffer from a multitude of conditions including congestive heart failure, respiratory insufficiencies and other chronic conditions that typically cause higher oxygen consumption during flight. Geriatric patients are also more susceptible to altitude changes than younger patients and usually require some form of oxygen during transport to prevent hypoxia. Oxygen is readily available to the patient and can be quickly administered by the medical crew members.
Medications
Medications commonly used during flight to reduce stress and anxiety in the general patient population are potentially inappropriate to administer to the geriatric patient. Physiological changes have an impact on how the elderly react to certain medications as drugs are metabolized very differently in this population. This is due to the increased sensitivity to certain medications which can increase the risk of cognitive impairment, delirium, increased anxiety, restlessness, and itching. The AirCARE1 medical team is not only trained to avoid administering medications that can cause adverse reactions, but to assess the patient for any cognitive impairments from medications previously administered at the sending facility.
Skin Integrity
Geriatric patients are more susceptible to skin breakdown during transport. The flight crew does a comprehensive skin assessment before flight to note any areas of concern. Special efforts are made to avoid any skin breakdown by ensuring patients are placed on the AirCARE1 padded stretcher at the bedside where they remain until they are transferred to a bed at their destination. Frequently repositioning the patient during flight further prevents skin breakdown and ensures comfort during transport.
Dehydration
Geriatric patients are at risk of dehydration during transport. Fluids given by mouth or intravenously ensure patients are fully hydrated. The AirCARE1 team members also apply scented lotions to the skin through hand massages to relax the patient and further hydrate the skin.
AirCARE1 Specializes in Geriatric Patient Transports
While geriatric patients bring a host of challenges to air ambulance transportation, AirCARE1 medical crews are trained on the special needs of the geriatric patient, as they provide a safe, secure and comfortable environment that affords the patient with a sense of well-being and peace of mind.