With the holidays fast approaching, a forecasted one in three Americans will travel this holiday season.  That equates to roughly 112.5 million people which is the most on record as we look back at past years. Compared to last year, this represents a 4.4 percent increase in holiday travel.
"Tis the season for holiday travel, and more Americans than ever will journey to spend time with friends and family or choose to take a vacation. Strong economic growth fueled by robust consumer spending continues to drive strong demand for seasonal travel. With a record-breaking one-third of the country choosing to travel this holiday, roadways and airports are sure to be busy."

~ Bryan Shilling, managing director, AAA Travel products and services
2018 Holiday Air Travel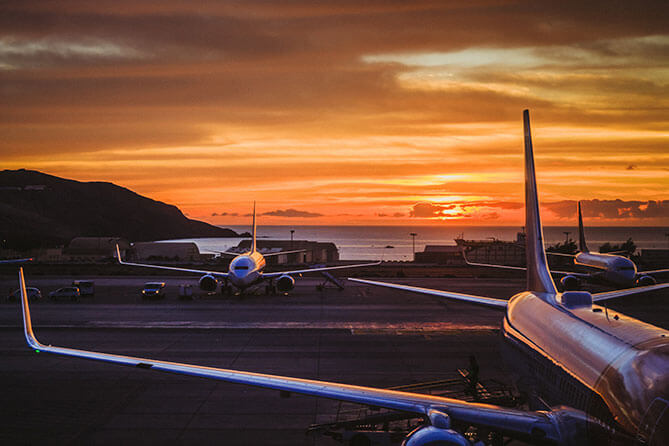 With so many Americans taking to the skies this holiday season, you can be certain that the airports will be jam packed with holiday travelers.  Airlines for America (also known as A4A), has projected that 45.7 million passengers will travel on U.S. based airlines over the holiday season. This spans an 18 day winter holiday travel period starting Thursday December 20th and running past New Years until Sunday January 6th. These projections represent a 5.2 percent increase over the 2017 holiday travel season in terms of total passengers flying in that time period.
"With airfares at historic lows, travelers are choosing to fly on U.S. airlines in record numbers, especially during the busy holiday season."

~ A4A Vice President and Chief Economist John Heimlich.
In terms of daily passenger volumes, A4A is projecting these will range from 2.1 to 2.9 million. The top 3 busiest projected travel days are:
Friday December 21st
Thursday December 20th
Wednesday December 26th
The top 3 lightest travel days in the airports are expected to be:
Monday December 24th / Christmas Eve
Tuesday December 25th / Christmas Day
Saturday January 5th
If you find yourself traveling by air this holiday season, don't forget to check out our top 10 holiday air travel tips to make your airport experience this holiday season a smooth and stress free one.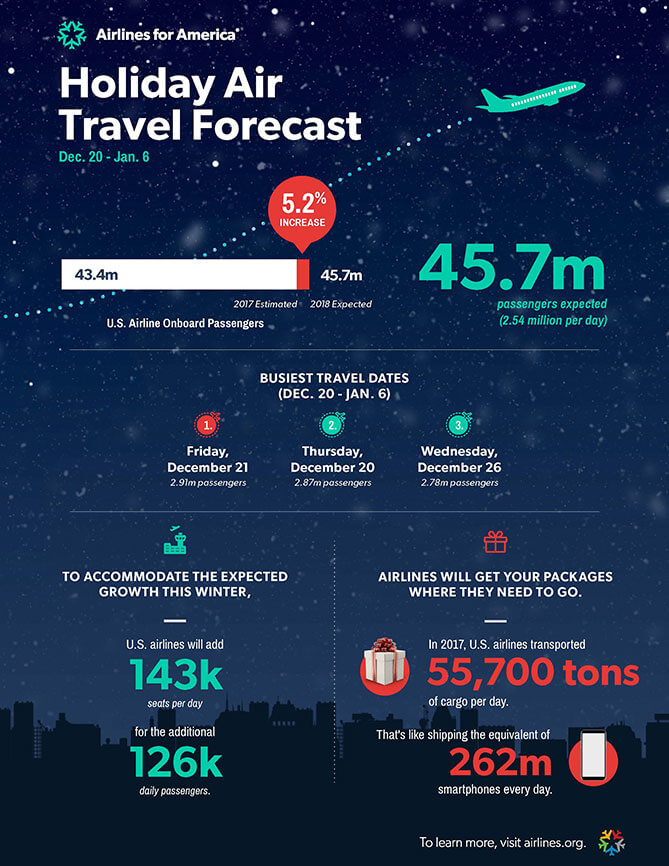 Average Ticket Prices & Crowd Predictions
Taking a look at AAA's flight booking data from the last three years, most air travelers depart two or three days before Christmas and return the day after the holiday. With Christmas falling on a Tuesday this year, many Americans will look to return to work for the reminder of the week.
While the majority of travelers book their holiday travel in advance, typically between October 26 and November 27, last minute planners who wait until mid December to book can expect to save some money with average airfares dropping down to $488. Those last minute savings of course come with the risk of limited flight availability and seat selection.
Busiest Airport Days & Average Ticket Prices
| Day | 3-Year Average Ticket Price | Expected Crowds |
| --- | --- | --- |
| Saturday (Dec. 22, 2018) | $590 | Heavy |
| Sunday (Dec. 23, 2018) | $564 | Heavy |
| Monday (Dec. 24, 2018) | $512 | Light |
| Tuesday (Dec. 25, 2018) | $564 | Light |
| Wednesday (Dec. 26, 2018) | $666 | Heavy |
2018 Holiday Car/Automobile Travel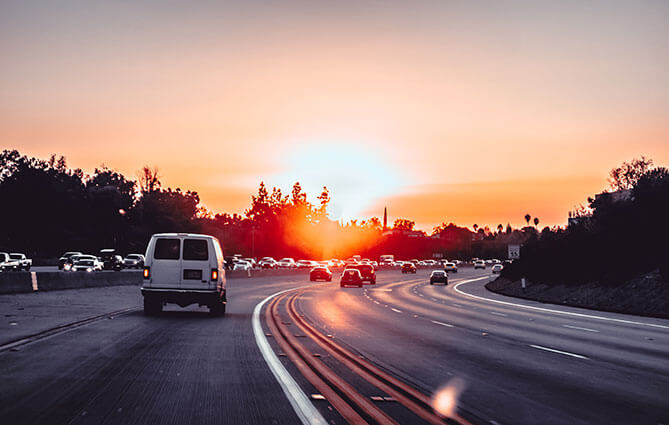 In addition to air travel being up in 2018, more Americans are predicted to travel by car this year than ever before. A forecasted 102.1 million people are expected to travel by automobile this holiday season which represents a 4.4% increase over 2017. With gas prices at the lowest national average they have been all year, Americans will have a bit of additional motivation to travel by car this holiday season. With so many cars on the road, it will be essential for travelers to plan their travel around non-peak travel days and times on the roads.
Top 10 Worst Cities for Holiday Car Travel
| City | Worst Day to Travel | Worst Time for Travel | Delay Multiplier |
| --- | --- | --- | --- |
| Atlanta | Saturday, Dec. 22 | 3:00 – 4:00 PM | 4x |
| New York City | Thursday, Dec. 20 | 9:30 – 10:30 PM | 3.75x |
| Boston | Wednesday, Dec. 19 | 3:30 – 4:30 PM | 3.5x |
| Houston | Wednesday, Dec. 19 | 12:15 – 1:15 PM | 3.25x |
| Detroit | Monday, Dec. 24 | 2:00 – 3:00 PM | 3x |
| Seattle | Wednesday, Dec. 19 | 4:00 – 6:00 PM | 2.25x |
| Chicago | Monday, Dec. 24 | 1:30 – 2:30 PM | 2.25x |
| Los Angeles | Thursday, Dec. 20 | 2:30 – 3:30 PM | 2x |
| San Francisco | Friday, Dec. 21 | 4:15 – 5:15 PM | 1.25x |
| Washington, DC | Thursday, Dec. 20 | 1:15 – 2:15 PM | 2.75x |
The Weather Factor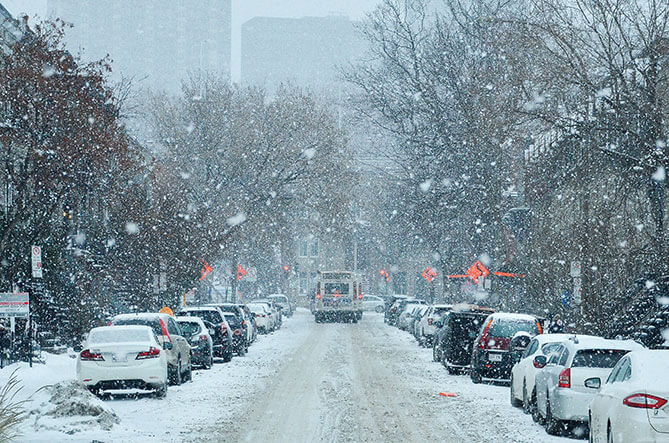 Whether you are traveling by plane or car (or both), weather is likely to be a factor for many parts of the country this holiday season. Accuweather is forecasting the following during the Christmas and New Years season:
Eastern US
A major rain storm on the Eastern US is predicted beginning Wednesday the 19th near the upper coast of the Gulf of Mexico. This storm will northward bringing heavy rain to the Southeast and parts of the Midwest and Northwest by the end of the week. Motorists should be on the watch as stream and river flooding is expected in many low lying areas. Travelers in Florida are expected to see the worse of the storm as heavy thunderstorms are expected to hit the area on Thursday. We could also see airline delays as fog and a low cloud ceiling are expected in some areas as well. As the storm moves north on Friday and hits colder temperatures, snow is expected in some areas of the Northeast and Midwest as well.
Western US
The Northwest and Pacific Coast is expected to see some continued storms hit with a mix of coastal rain and mountain snow. Snow and high wind conditions are expected in the Northern and Central Rockies. Coastal Northern California up to Western Washington State will see heavy rains. The Cascades and Northern Sierra regions are also expected to see snow this this holiday season.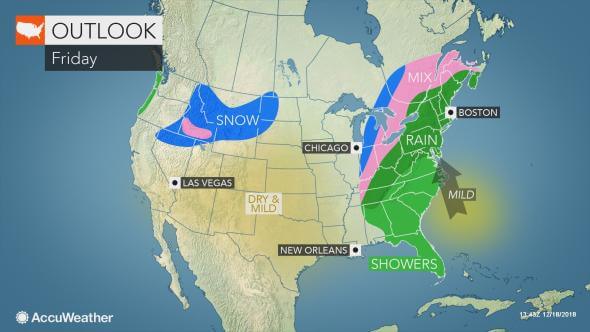 Have any thoughts you would like to share about the 2018 holiday travel season? Let us know in the comment section below!