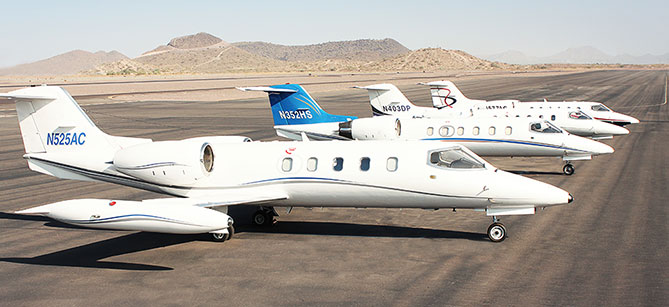 Medical emergencies come with many uncertainties. In these situations, time is often the most significant factor for the success of every life-saving mission. Air ambulance services exist to provide fast responses to emergencies in which time is vital; most often to transport patients from one hospital to another so that patients can receive the best care possible.
AirCARE1 international is a long distance air ambulance service provider that carries patients safely and comfortably to the destination of their choice. We respond to medical emergencies throughout the United States, Central America, Canada, and other worldwide destinations. AirCARE1 utilizes the Learjet 35A airborne intensive care unit to fly our patients in a fast, safe and comfortable manner.
We are accredited by the European Air Medical Institute (EURAMI), as well as the Commission on Accreditation of Medical Transport Systems (CAMTS). AirCARE1 is honored to have received dual accreditations as this status is a rarity amongst air ambulance service providers. This dual accreditation is just one example that demonstrates our commitment to providing emergency services held to the highest standards.
AirCARE1 provides medevac and air ambulance services to many cities in Costa Rica. Below are a few of the airports we fly to in the country:
San Jose, Costa Rica; San Jose/Juan Santamaria International Airport
Puerto Limon, Costa Rica; Puerto Limon/Limon International Airport
Liberia, Costa Rica; Liberia Daniel Oduber Quiros International Airport
Pavas, Costa Rica; Papas/Tobias Bolanos International Airport
AirCARE1 has a critical/specialty care air ambulance license. We transport patients of all ages while providing the best air medical transport care in Costa Rica. All flights includes a two-person medical team offering bedside to bedside treatment. The team may consist of paramedics, critical care nurses, respiratory therapists and physicians, all these depending on the patient's specific healthcare needs.
AirCARE1's aircraft are equipped to deliver outstanding medical services comparable to the best on ground medical facilities. At AirCARE1, our highly trained medical teams will do everything they can to ensure a smooth and comfortable ride for our patients and their travel companions. Our aircraft have high-quality executive interiors with specialized on-board medical equipment. Our medical personnel receive ongoing training to ensure they are equipped to handle any medical emergency.
AirCARE1 also employs holistic methods to put our patients and their families at ease and to enhance the level of care we provide. We include the use of noise canceling headsets playing therapeutic music, aromatherapy, and hand massages. These methods create an overall peace of mind and also play a significant role in reducing anxiety and stress that patients undergo.
AirCARE1 provides air ambulance services to patients of all ages ranging from infants to elderly patients. We understand that every patient has unique needs and, as such, our team works diligently to personalize all aspects of the flight to ensure our patients receive the best care possible. Our medical team is trained and experienced in stabilizing, transporting and monitoring the specific conditions of our patients throughout the flight.
Do you have any medical emergency? Contact AirCARE1 today for a free quote by clicking here or calling us at 877-760-7760.
About Costa Rica
Costa Rica is a tropical country located just north of Panama on the southern end of the Central American Isthmus and is famous for being considered one of the most eco-friendly countries on earth. Over a quarter of Costa Rica's land area is protected by national parks and a variety of activities are available to enable tourists to experience these preserved nature areas. Visitors can take cable cars or zip lines through rain forest canopies, raft the country's rivers, or even hike up a volcano, all of which offer an opportunity to see the astounding diversity of wildlife contained in the country. Costa Rica is also one of the most highly educated countries in Latin America, and while Spanish is the official language of the country, many English speakers can be found in the capital of San Jose and the developed tourist areas. Similarly, US dollars are accepted near most tourist destinations but the Colon is the official currency and is accepted throughout the country. Keep in mind that paying in the local currency often provides the better deal.
The country is generally considered safer than other Central American areas due to a lower rate of violent crime and a better healthcare system but it is important to still be cautious. While tap water is safe and clean in a majority of the country don't take this for granted and just avoid more questionable water in isolated and rural areas. Dengue Fever, a flu-like disease transferred by mosquitoes, is spreading in Costa Rica and so all visitors should use plenty of bug repellant and wear long sleeves and pants when possible to prevent bites. Beaches can also pose a hazard and often have riptides just off shore that visitors are rarely warned about. Many of the roads in Costa Rica lack adequate signage or may be damaged and lack upkeep so if you rent a car make sure to drive defensively and always stay aware of unmarked road hazards. Violent crime can be avoided by steering clear of the shadier areas of San Jose but pick pocketing and theft occur throughout the country; keep a close eye on valuable belongings while in public areas such as streets and buses but especially be wary of more elaborate scams that occur frequently. Due to these risks, it is smart to obtain travelers insurance before leaving in order to cover unforeseen expenses, this can be done by visiting www.ustia.org. The US Embassy in San Jose also recommends registering with their Smart Traveler Enrollment Program at step.state.gov to assist the Embassy in contacting you in an emergency. Costa Rica is very open to foreigners and as long as you stay safe and come prepared you will have a great experience.
Embassy Contact Information
U.S. Embassy San José
Calle 98, Via 104
Pavas
San José, Costa Rica
Telephone: +(506) 2519-2000
Emergency After-Hours Telephone: +(506) 2220-3127 and ask for the duty officer
costarica.usembassy.gov