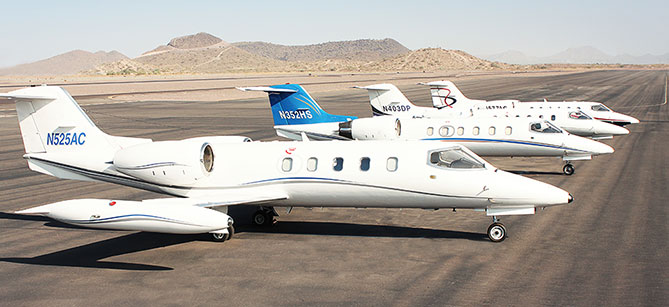 From red rock formations and impressive mountain peaks, to open ranch country and remote valleys, Colorado's terrain is as varied as its citizens. Unfortunately, the magnificent views and wild terrain are capable of not only causing injury, but also hindering the rescue efforts and response time of medical teams. Fortunately, air ambulance services alleviate these concerns by providing swift response to injured and ill people in remote areas.
Unlike medical helicopters, air ambulance fleets are made up of agile Lear 35A jets that provide a stable transit option without sacrificing speed and efficiency. These jets are capable of reaching remote areas safely and transporting patients to major medical centers.
Unlike ground ambulances, air ambulances provide a smooth ride and are fully equipped with high-end interiors and state-of-the-art medical equipment. Patients receive bedside-to-bedside service while in the care of experienced, trained professionals. Additionally, loved ones and caretakers are able to travel alongside the patient.
Air Ambulance Service Benefits
Aside from the benefits already mentioned, patients and loved ones choosing air ambulance services experience the following benefits:
Life port patient care systems
Two person critical care medical teams
Specialized on-board equipment
Anxiety reducing therapies
Customer service
Reliability
Value
Who Benefits from Air Ambulance Services
Skiers and hikers undoubtedly benefit from air ambulance services. When an accident occurs either on the road, the course, or the trail, air ambulance services can reach these remote areas. Support staff is capable of organizing ground and air transport to establish a streamlined route from accident scene to hospital. However, a person doesn't have to be stranded on a mountain in order to require timely, life-saving transport.
If a parent or loved one has a chronic condition, or critical need, AirCARE1 services are on-call to transport your loved one should the condition worsen or if accidents occur. Our team of professionals works in conjunction with patients and their family members to establish a transport route and to ensure that appropriate onboard staff are available. Onboard staff can include physicians, respiratory therapists, paramedics and critical care nurses.
Geriatric, pediatric, neonate and bariatric care are provided on route by an accredited support team. AirCARE1 has double accreditation by the Commission on Accreditation of Medical Transport Systems (CAMTS) and the European Air Medical Institute (EURAMI). These organizations ensure that the care you or your loved one receive in-flight meets rigorous standards and protocols.
Additionally, flight crews provide post-flight briefings with all medical services, ensuring that the patient receives consistent care throughout their transit and upon reaching their destination.
As a Coloradan, you likely appreciate the importance of air transit and understand its superiority to other modes of transportation. Knowing that a double-certified air ambulance service is available to safely transport your loved one in a time of need can ease your mind.
Destinations We Fly To
Looking for an air ambulance in Colorado (CO)? AirCARE1 provides air ambulance and medevac service to many cities in CO. Here is a list of airports in Colorado that we fly to:
Akron, CO United States; Colorado Plains Rgnl Airport
Alamosa, CO United States; San Luis Valley Rgnl/Bergman Field Airport
Aspen, CO United States; Aspen-Pitkin Co/Sardy Field Airport
Buena Vista, CO United States; Central Colorado Rgnl Airport
Burlington, CO United States; Kit Carson County Airport
Canon City, CO United States; Fremont County Airport
Center, CO United States; Leach Airport
Colorado Springs, CO United States; City Of Colorado Springs Muni Airport
Colorado Springs, CO United States; Meadow Lake Airport
Cortez, CO United States; Cortez Muni Airport
Craig, CO United States; Craig-Moffat Airport
Creede, CO United States; Mineral County Memorial Airport
Del Norte, CO United States; Astronaut Kent Rominger Airport
Delta, CO United States; Blake Field Airport
Denver, CO United States; Centennial Airport
Denver, CO United States; Denver Intl Airport
Denver, CO United States; Front Range Airport
Denver, CO United States, Rocky Mountain Metropolitan Airport
Durango, CO United States; Animas Air Park Airport
Durango, CO United States; Durango-La Plata County Airport
Eagle, CO United States; Eagle County Rgnl Airport
Fort Collins/Loveland, CO United States; Fort Collins-Loveland Muni Airport
Fort Morgan, CO United States; Fort Morgan Muni Airport
Grand Junction, CO United States; Grand Junction Regional Airport
Greeley, CO United States; Greeley-Weld County Airport
Gunnison, CO United States; Gunnison-Crested Butte Rgnl Airport
Hayden, CO United States; Yampa Valley Airport
Kremmling, CO United States; Mc Elroy Airfield Airport
La Junta, CO United States; La Junta Muni Airport
Lamar, CO United States; Lamar Muni Airport
La Veta, CO United States; Cuchara Valley At La Veta Airport
Leadville, CO United States; Lake County Airport
Meeker, CO United States; Meeker Airport
Monte Vista, CO United States; Monte Vista Muni Airport
Montrose, CO United States; Montrose Rgnl Airport
Pagosa Springs, CO United States; Stevens Field Airport
Pueblo, CO United States; Pueblo Memorial Airport
Rangely, CO United States; Rangely Airport
Rifle, CO United States; Garfield County Rgnl Airport
Salida, CO United States; Harriet Alexander Field Airport
Sterling, CO United States; Sterling Muni Airport
Telluride, CO United States; Telluride Rgnl Airport
Trinidad, CO United States; Perry Stokes Airport
Walden, CO United States; Walden-Jackson County Airport
Westcliffe, CO United States; Silver West Airport
Wray, CO United States; Wray Muni Airport