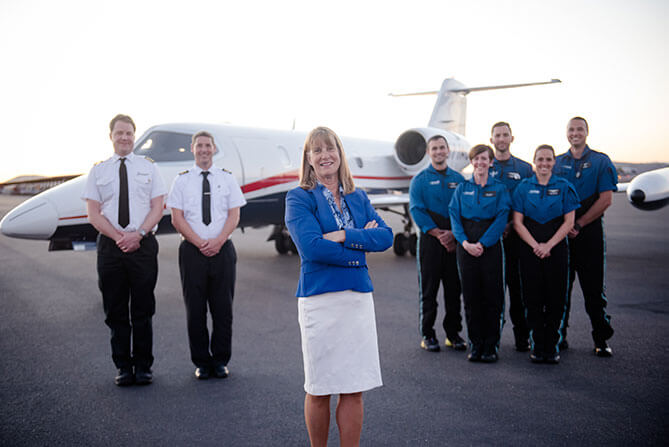 The Highest Quality Learjet 35A Aircraft
Fixed wing air ambulance provider for better patient care utilizing Learjet 35A's—airborne intensive care units— to transport patients in safety and comfort throughout the United States, Canada, Central and South America, as well as destinations worldwide
Patients are transported in Executive quality interiors in a pleasant medical environment
Range: 2125 nautical miles (nm)-allowing nonstop travel almost anywhere in North America
Speed: 440 knots (500 mph)
Altitude: 41,000-43000 ft
Ability to land at smaller airports providing closer access to the patient
36-inch Cargo Door (versus 24-inch standard executive door)
Highly Trained AirCare1 Team
MEDICAL-Required-Minimum three years critical care experience

Aircraft staffed with two person medical team consisting of Critical Care Nurses, Paramedics or Respiratory Therapists
Medical Director

Over 20 years of experience in critical care
Extensive flight experience

FLIGHT-Required-Minimum 3000 hours (Captains)

Two pilot crew
Trained annually at flight safety
Air Transport Pilot (ATP) Certified—Highest FAA pilot certification
Superior Customer Service
24 Hour Dispatch
Contact us day or night
Professional communication specialists arrange every aspect of the flight including the following:

Flight Times
Airport/Fuel Considerations
Ground Transportation
In-flight food considerations
International Logistics
Required Information for Patient Transport
Name of patient
Date of Birth
Weight
Diagnosis
Location of patient at sending facility (room number/nurse's station phone number)
Receiving facility name, address, room number/nurse's station phone number
Physicians names at both sending/receiving facility
Name of passengers –Date of birth, weight
Due to the size restriction of the aircraft, only 1 small carryon bag allowed per person-up to two total bags
Patient Transfer Guidelines – Day of Departure
In order to prepare the patient for a safe and smooth transfer, the following need to be completed on the day of departure
Appropriate Transfer orders
Four copies of the patient's face sheet
Copy of the patients chart-including History and Physical (H&P) as well as discharge summary
Current Laboratory Values (within the last 12 hours)
Ventilator Patients should have a current set of Arterial Blood Gases
Additionally, any tube feedings (excluding neonates) should be discontinued within 2 hours prior to transport
Scheduled medications should be at the bedside to be sent with the patient
Click here to download our patient transfer guidelines.
Family Members
At the discretion of the medical crew, up to two family members may accompany the patient. Please have their names, dates of births, weights, available for the medical crew
Luggage
Due to space restrictions, baggage is limited to a total of two small carryon bags. Baggage is subject to search at the discretion of the flight crew
Bedside to Bedside Care
The medical team will arrive at bedside at the predetermined time. The patient is transferred from their hospital bed to the AirCARE1 LifePort patient care system where they will remain throughout the flight until they are safely delivered at their receiving facility
Ground Ambulance
AirCARE1 will coordinate all ground transportation to and from the patient's facilities
Patient Facility Locator
Having difficulty finding a receiving facility or room? Let AirCARE1 help. Our extensive network enables us to find accepting physicians as well as rooms for your patient.
Flight Following
AirCARE1 keeps all parties informed of every detail of the flight during the patient's transport. Additionally, we provide you with a post-flight follow up after the safe arrival of your patient at their destination.
Insurance
AirCARE1 accepts most insurances