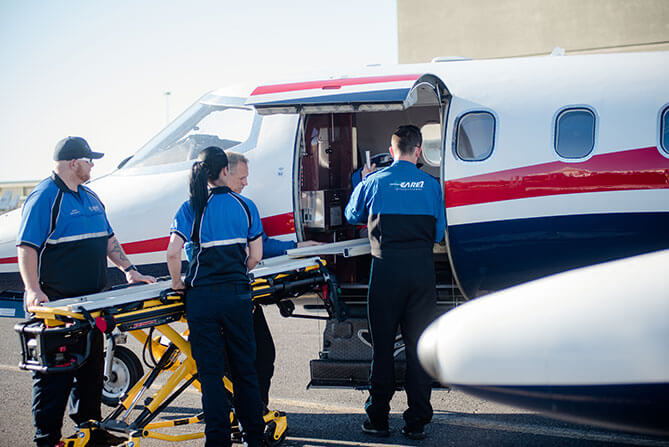 The Bariatric / Obese Patient
Obesity affects approximately 60 million people in North America with more than 3 million people falling into the morbidly obese category. Morbid obesity is defined as an excess of body fat 100 pounds over ideal body weight.
Accidents happen even to morbidly obese people, who then become patients in a healthcare facility which may not have the capabilities to effectively treat the bariatric patient.
Transporting the morbidly obese Patient
The bariatric patient needing to be transported by Air Ambulance can present daunting issues for flight and medical crew members unless the team has experience in and is well prepared for transporting this type of patient.
Loading patients into the aircraft is one of the most critical moments in safe patient transport. The mere size of a bariatric patient involves understanding the logistics needed to load the patient into the aircraft in order to provide a safe and efficient transport to their destination.
Narrow executive size doors, found on most aircraft in the air ambulance industry, are not wide enough to accommodate an obese patient over 400 pounds. Fortunately, cargo doors available on AirCARE1 Learjet 35's can accommodate the large girth of the patient.
When transporting very large patients, it is imperative to use a system that includes a loading ramp so as to prevent any tipping, tilting or wobbling of the patient as well as protecting the flight crew members from weight-bearing hazards. If there are no contraindicating medical conditions, obese patients are safely loaded headfirst into the AirCARE1 aircraft using additional restraints to secure the patient.
Monitoring equipment attached to the stretcher itself provides a life line to the crew so they may monitor all vital signs during this transition. This same stretcher goes from one hospital bedside to the next instead of requiring several gurney transfers, further reducing patient stress.
Special Needs of the Bariatric Patient
Bariatric patients may need extra padding during flight to reduce the likelihood of decubitus. Additionally, adipose tissue contains high concentrations of nitrogen. With pressure changes, the adipose tissue weaken and release nitrogen in the blood with large concentrations of lipids, leading to increased nitrogen content and a higher potential for the release of fat emboli. 100% oxygen should be placed on the patient for 15 min prior to transport to minimize the possibility of a fat emboli during flight. Finally, pain medication or even light sedation may be required to reduce anxiety related to being in closed spaces.
AirCARE1 Specializes in Obese Patient Transports
AirCARE1 provides air ambulance transportation for bariatric patients. Our wide cargo door and unique loading system provides a safe means of loading very large patients into the aircraft.
Additionally, we have the LifePort patient care system that includes the loading ramp. Our stretcher system and ramp are equipped and rated to carry patients up to 450 lbs. To ensure the patient will fit inside the aircraft, we ask for the complete girth of the patient around the largest part of their body.
We are experts in transporting bariatric patients in a safe and expedient manner while providing a smooth and stress free flight.
Call our 24/7 communication specialist at 877-760-7760 to hear what we can do for you.