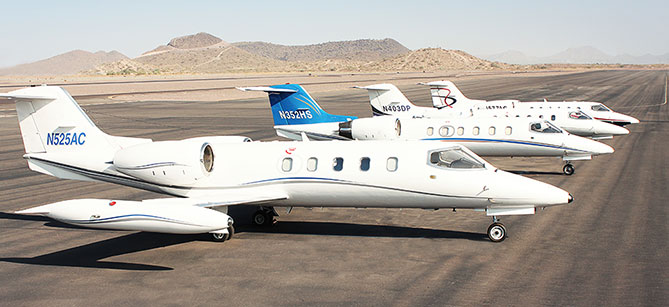 There are few areas where we can still enjoy vast stretches of untamed wilderness, but Alaska provides that type of rugged exploration with a natural beauty unique to this great state. Whether you find yourself in Alaska to live, work or just play, this place will undoubtedly hold a piece of your heart.
One of the downsides to living or adventuring in Alaska is the natural dangers along with the lack of specialized medical facilities available in case of serious injury. Sometimes life gets in the way of those plans and many people find the need for emergency flight services. Due to the severe weather conditions that often occur in Alaska, an air ambulance service that can navigate inclement weather is important to provide reliable and timely service in critical situations.
Benefits of AirCARE1's Air Ambulance Service
With limited options for medical care in many of the rural areas of Alaska, our air ambulance jets are able to transport critically ill and injured patients to medical facilities with better care options and accommodations. With the latest medical technology at the disposal of our air ambulance personnel, patients and family members can rest assured they will receive the best care. Below are just a few of the benefits of flying with AirCARE1:
Life Port Patient Care System for increased patient comfort
Reliable and Quick Service
Latest Medical Technology
Highly Trained Medical Teams
Holistic Care and Therapeutic Services
Air Ambulance Considerations
A stressful situation that requires critical emergency care can be life altering. With anxiety reducing treatment options, comfortable interiors and room for loved ones, AirCARE1's air ambulance service will provide an all-encompassing emergency medical experience giving patients the very best care.
Alaskans work hard, and that work takes some people to extreme environments where natural disasters or a run of bad luck can become a life-threatening emergency. By having the assurance of being well cared for no matter where they are located, hard working Alaskans can maintain peace of mind knowing they can rely of AirCARE1 in a time of need.
If there is ever a need for air ambulance services, our dedicated team of health care professionals will provide the highest level of care that does not stop when our patient reaches the hospital. Our specialists will continue to provide any help needed including giving progress reports to new providers to ensure you or your loved one receives the best care possible.
Along with accidents and natural disasters, life can sometimes bring critical health problems. For those who live in rural communities or outlying villages, having air ambulance service can be their only lifeline. People with a debilitating illness or chronic disease may need the care of an air ambulance team to get them to an appropriate treatment facility. When time is of the essence, our jets can provide the safest and fastest transport to the location that is best able to treat you or your loved one.
AirCARE1's fleet of Learjet 35A are internationally accredited flying emergency intensive care units designed to bring our patients the very best care possible. When you live in a state like Alaska, you know the importance of being able to fly out. Contact AirCARE1 today for a free quote and let our team be your lifeline.
Why You Should Choose AirCARE1:
AirCARE1 is dedicated to providing you with the safest air ambulance and medical transport flights from Alaska. We offer a variety of flights to and from the major airports as well as throughout the state.
If you experience a medical emergency and need evacuation to a hospital, then we can help you. Our medical flight crew is highly experienced and able to transport you using our state of the art Learjet aircraft. Each aircraft is fully equipped with top medical flight equipment and provide a soothing relaxing flight. Since Alaska is such a rugged and mountainous state, we also take extra care with our ground transportation to the airport as well.
There are a variety of reasons why you should choose AirCARE1 like:
We have dual accreditation awards like the CAMTS and EURAMI awards.
The aircraft we use are able to travel longer distances and provide high quality care.
Our medical flight crew is highly trained and offer soothing and relaxing care to all patients.
We transport you from the hospital to the aircraft, and then onto thousands of destinations in the USA and the world.
Our company is fully licensed and up to date with all regulations and requirements for safe Alaska flights.
Alaska Airports We Fly To:
Some of the airports that we fly to are:
Adak Island, AK United States; Adak Island Airport
Anchorage, AK United States; Elmendorf Afb Airport
Aniak, AK United States; Aniak Airport
Annette, AK United States; Annette Island Airport
Barrow, AK United States; Wiley Post/Will Rogers Memorial Airport
Bethel, AK United States; Bethel Airport
Cold Bay, AK United States; Cold Bay Airport
Cordova, AK United States; Merle K (mudhole) Smith Airport
Deadhorse, AK United States; Deadhorse Airport
Delta Junction, AK United States; Delta Junction/Fort Greely/Allen Aaf Airport
Dillingham, AK United States; Dillingham Airport
Fairbanks, AK United States; Fairbanks International Airport
Galena, AK United States; Edward G Pitka Sr Airport
Gulkana, AK United States; Gulkana Airport
Gustavus, AK United States; Gustavus Airport
Homer, AK United States; Homer Airport
Iliamna, AK United States; Iliamna Airport
Juneau, AK United States; Juneau International Airport
Kenai, AK United States; Kenai Municipal Airport
Ketchikan, AK United States; Ketchikan International Airport
King Salmon, AK United States; King Salmon Airport
Klawock, AK United States; Klawock Airport
Kodiak, AK United States; Kodiak Airport
Kotzebue, AK United States; Ralph Wien Memorial Airport
Mcgrath, AK United States; Mc Grath Airport
Nome, AK United States; Nome Airport
Palmer, AK United States; Palmer Municipal Airport
Petersburg, AK United States; Petersburg James A Johnson Airport
Sand Point, AK United States; Sand Point Airport
Shemya Island, AK United States; Shemya Island/Eareckson As Airport
Sitka, AK United States; Sitka Rocky Gutierrez Airport
Soldotna, AK United States; Soldotna Airport
St Paul Island, AK United States; St Paul Island Airport
Tanacross, AK United States; Tanacross Airport
Unalakleet, AK United States; Unalakleet Airport
Valdez, AK United States; Valdez Pioneer Field Airport
Wrangell, AK United States; Wrangell Airport
Yakutat, AK United States; Yakutat Airport
Call our medical flight hotline for further details and information on US: 1.877.760.7760 | Int'l: 505.242.7760.