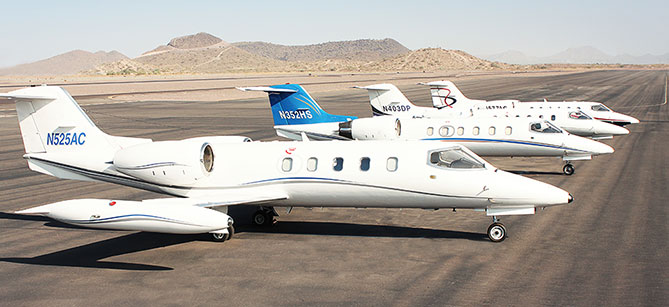 No one expects to ever need an air ambulance service, but it's nice to know that there is a company you can count on should you or a family member ever require medical care in another location. AirCARE1 is that company. Our modern and highly equipped fleet of aircraft flies into and out of several airports within Alabama. Whether you need to travel to another state or another country to receive medical care, AirCARE1 can help you get there safely and comfortably.
AirCARE1 has been built on the highest standards of professionalism and service. We consider every trip an opportunity to not only meet, but exceed our patients' expectations. This dedication to our clients' satisfaction mixed with our total commitment to their safety has led to our company receiving a great deal of recognition within our own industry. AirCARE1 is one of the very few medical transport providers to ever receive dual accreditation from the European Air Medical Institute (EURAMI) and the Commission on Accreditation of Medical Transport Systems (CAMTS).
When you choose AirCARE1 as your provider of air ambulance services in Alabama, it will immediately become evident to you that your safety is of the utmost importance to every person involved in your trip. Our flight crews include two pilots, each of whom is highly qualified and well-trained. In fact, our pilots are required to complete annual safety training. Plus, the aircraft these pilots operate are fully equipped with the most advanced technology available.
Our AirCARE1 staff is capable of caring for all types of patients, regardless of age. The medical professionals who work with us include physicians and nurses who aim to provide the best medical care possible in every situation. At AirCARE1, we strive to give our patients the same level of care they would receive at the most highly regarded medical facilities on the planet. That is why our medical staff are required to continually attend training and continuing medical education opportunities to stay current on such topics as neonatal and critical patient care. For further information on the medical services we provide, as well as the standards we set for our employees, please visit our "Patient Care" page.
Because we here at AirCARE1 know how much stress medical emergencies can cause, we also go above and beyond to help our clients relax as much as they can during their trip. In an effort to accomplish this goal, our staff offers such services as aromatherapy, hand massages, and noise-cancelling headphones that allow you to enjoy the various music and movie options on board.
From the first representative you speak to when you call to the pilots and medical staff who serve you while in the air, everyone at AirCARE1 is committed to providing our customers in Alabama with the expert medical care and service they deserve. We are here to assist you with all the details of your trip and remove as much of the stress as we can so that you can focus on what's really important.
Why Choose AirCARE1?
AirCARE1 specializes in air ambulance and medical transport flights to and from Alabama. With high tech air ambulance medevac jets, we safely transport you to or from your airport in Alabama.
Our Alabama air medical transport crew is highly trained and dedicated to get you to where you need to go. Ranging from emergency medical transport to neonatal patient care, we use sophisticated equipment along with relaxing environments to get you to your destination.
There are a variety of reasons why you should choose AirCARE1 like:
Efficient Learjet aircraft
Life Port patient care systems
Highly trained air crew
Continuous monitoring systems
AirCARE1 is fully licensed and up to date with all regulations and requirements for safe Alabama flights.
Some of the airports that we fly to are:
Alabaster, AL United States; Shelby County Airport
Albertville, AL United States; Albertville Rgnl-Thomas J Brumlik Fld Airport
Alexander City, AL United States; Thomas C Russell Fld Airport
Andalusia/Opp, AL United States; South Alabama Rgnl At Bill Benton Field Airport
Anniston, AL United States; Anniston Regional Airport
Auburn, AL United States; Auburn University Rgnl Airport
Bay Minette, AL United States; Bay Minette Municipal Airport
Bessemer, AL United States; Bessemer Airport
Birmingham, AL United States; Birmingham-Shuttlesworth International Airport
Brewton, AL United States; Brewton Municipal Airport
Centre, AL United States; Centre-Piedmont-Cherokee County Rgnl Airport
Clayton, AL United States; Clayton Municipal Airport
Cullman, AL United States; Cullman Rgnl-Folsom Field Airport
Decatur, AL United States; Pryor Field Regional Airport
Demopolis, AL United States; Demopolis Municipal Airport
Dothan, AL United States; Dothan Regional Airport
Enterprise, AL United States; Enterprise Municipal Airport
Eufaula, AL United States; Weedon Field Airport
Evergreen, AL United States; Middleton Field Airport
Fairhope, AL United States; H L Sonny Callahan Airport
Fayette, AL United States; Richard Arthur Field Airport
Fort Payne, AL United States; Isbell Field Airport
Fort Rucker, AL United States; Fort Rucker/Cairns Aaf Airport
Gadsden, AL United States; Northeast Alabama Regional Airport
Greenville, AL United States; Mac Crenshaw Memorial Airport
Gulf Shores, AL United States; Jack Edwards Airport
Haleyville, AL United States; Posey Field Airport
Hamilton, AL United States; Marion County-Rankin Fite Airport
Headland, AL United States; Headland Municipal Airport
Huntsville, AL United States; Huntsville International/Carl T Jones Field Airport
Huntsville, AL United States; Redstone Aaf Airport
Jackson, AL United States; Jackson Municipal Airport
Jasper, AL United States; Walker County-Bevill Field Airport
Marion, AL United States; Vaiden Field Airport
Mobile, AL United States; Mobile Downtown Airport
Monroeville, AL United States; Monroe County Airport
Montgomery, AL United States; Montgomery Regional/Dannelly Field Airport
Muscle Shoals, AL United States; Northwest Alabama Regional Airport
Ozark, AL United States; Blackwell Field Airport
Pell City, AL United States; St Clair County Airport
Prattville, AL United States; Grouby Field/Prattville Airport
Reform, AL United States; North Pickens Airport
Call our medical flight hotline for further details and information on US: 1.877.760.7760 | Int'l: 505.242.7760.