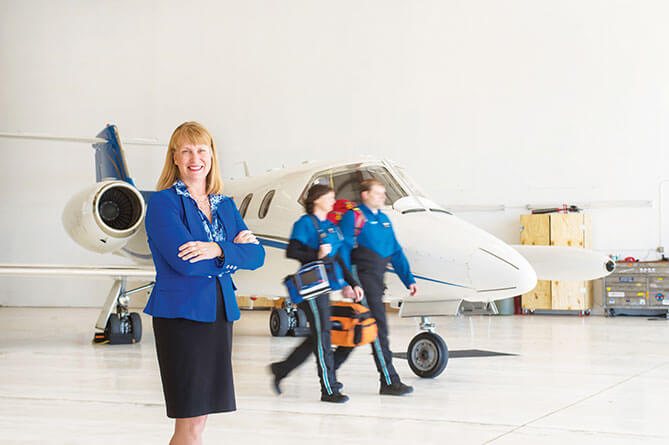 AirCARE1 started as a dream that came from a love of flying and the passion for taking care of patients. My name is Denise Waye and I am a nurse. I worked as a critical care nurse before I became a flight nurse.
My orientation as a flight nurse consisted of being given abook on company policies and procedures and told to read it. I flew my initial flight with a flight medic without any flight orientation whatsoever. Despite the lack of training, I found I loved being a flight nurse! I loved taking care of my patients while transporting them to their destinations.
While I loved being a flight nurse, I soon realized there were significant safety issues beyond the training issues I had already experienced. When I attempted to bring these issues to light with owners of the company-I was told "When I owned my own company, I could do things anyway I wanted." After many months of trying to improve things, a wise person told me I had two choices. I could either change my attitude and stay with the company, or I could change my job. I decided to change my job.
I had met Jake Jacobsen who flew as an air ambulance service pilot with the same company. Jake was a retired Air Force Colonel who had flown F-4's. Together, we decided to start our own company, AirCARE1. Our motto quickly became, dream big-work hard- and never quit!
Our passion for flying and taking care of patients as well as our former experiences, led us to fulfill our dream. We worked diligently to build a company based on safety, customer care, and honesty while providing exceptional service to our patients and their family members.
Today, we own our own fleet of air ambulance aircraft at two bases and operate them under our own FAA Air Carrier certificate. We are the preferred provider of many travel assist and insurance companies. Our crew training and education programs are second to none.
Our story is of a nurse and a pilot who dreamed big-worked hard-and never quit!