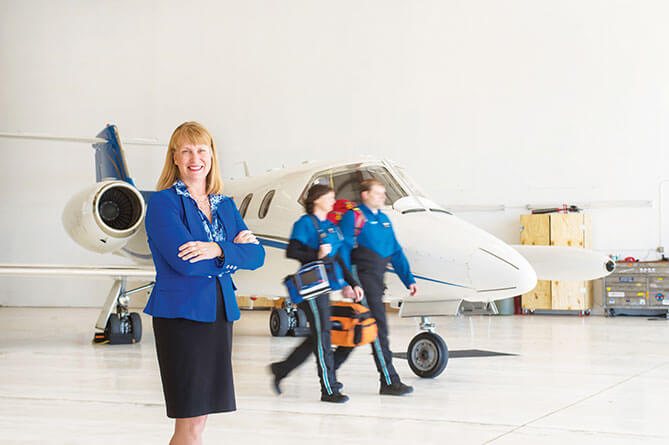 AirCARE1 International was co-founded in 2004 by Denise Waye, a critical care nurse who wanted to make a difference in the lives of patient while transporting them in the air. Having worked in the air ambulance industry for years as a flight nurse, Denise knew there was a better way to provide patient care during an air ambulance transport.
Denise thought differently and set out to challenge the status quo of what was currently being done in the industry by creating a unique environment of peace and calm that promoted the healing process for patients. Her vision and passion propelled her to start her own air ambulance company that would transform the air ambulance experience for patients and their families.
This dramatically different approach would provide comforting holistic measures along with stellar medical care that provided a sense of peace and calm for patients.
Co-founding the company with a retired Air Force pilot, AirCARE1 performed its first flight in 2005 out of Albuquerque, New Mexico with a leased Learjet 35A. Denise's dramatically different approach of combining stellar medical care along with holistic methods that promoted the healing process was quickly recognized by healthcare providers in the industry as a more compassionate and medically effective way to transport patients over long distances. In less than two years the company opened another base of operations with another Learjet 35A in Phoenix, Arizona to meet the increased requests from her clients.
During the next decade, AirCARE1 obtained accreditations from the Commission on Accreditation of Medical Transport Systems (CAMTS) and the European Air Medical Institute (EURAMI). Dual accreditations are a rarity in the air ambulance industry and emphasized their commitment to the highest standards of care. AirCARE1 was able to return their leased aircraft and purchased their own aircraft while also attaining their own FAA Part 135 Operating certificate
In 2014, Denise bought out her business partner, establishing AirCARE1 International as a 100% woman-owned company certified by the Woman's Business Enterprise National Council (WBENC).
Since 2014, AirCARE1 has continued its expansion through the purchase of additional Learjet 35A and 36A aircraft as well as opening a Commercial Medical Escort division of the company. This division provides the ability to transport non-critical patients on commercial airliners throughout the world, while continuing to provide the excellent level of medical care, holistic techniques, and compassion for which AirCARE1 has become known.
Throughout the years, AirCARE1 International has safely transported thousands of patients via air ambulance and commercial medical escorts to international and domestic locations, and has earned a reputation as one of the most trusted providers in the air ambulance industry worldwide.