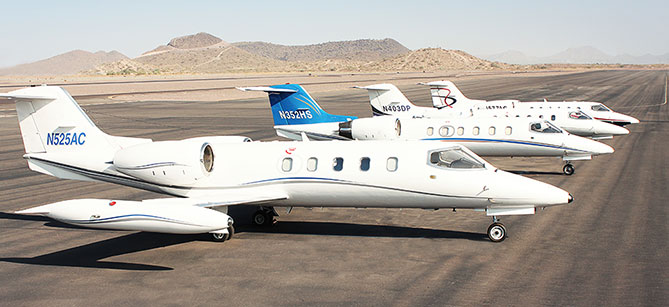 Our AirCARE1™ commitment to service is to provide an Airborne Critical Care Unit for the patient on every flight we operate. Our philosophy is to be prepared, both in terms of equipment, as well as with our medical personnel, for any contingency.
While this should be common practice for all air ambulance companies, we know there are different levels of aircraft, medical equipment, and staff even within the same air ambulance company.
The way we can guarantee our quality of service is to have only one standardized level of aircraft, medical devices, and medical staff to serve each and every flight. You will never get excuses from us — only the best possible care through our Airborne Critical Care Unit.
Our premier service approach is supported by three key elements:
1. Our exacting standards for the aircraft and all the specific patient care components we have used to outfit the aircraft. We only use a Lear 35A as our jet aircraft because only the Lear 35A has both the range of travel to minimize or eliminate stops for fuel and the extra wide entry door for ease of patient access in and out of the jet.
2. The extensive training and experience we require before any air medical transport or flight personnel are qualified to be on our staff. Because of our reputation for attention to detail, and a focus on the patient first, we are regularly approached by flight and medical personnel seeking the opportunity to work with us. We have our pick of the best-of-the-best.
3. Procedures that guarantee seamless support services, from the initial interaction with us on the phone or through our web site, all the way through a post-flight debriefing with everyone involved. We not only have written training procedures for everyone in the company, including those who answer the phone; we perform quality assurance and provide continuing education for all our personnel on a regularly scheduled basis.
As the founders and operators of AirCARE1™ International, we are revolutionizing the way patients are transported in the air medical transport industry. Our intentionally developed standards not only meet, but exceed many of the current standards for accreditation. See our service guide for information on our flights and services.