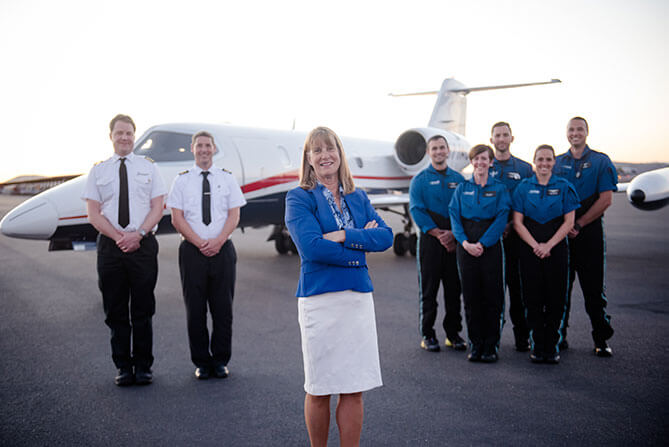 Navigating the world of air ambulance can be daunting and overwhelming. Our professional communication specialists are ready to help begin the process. Below is our step-by-step guide for an air ambulance flight to help you understand the process.
Initial Quote Request:
Call AirCARE1 at 1-877-760-7760 (or + 505-242-7760 out of country) to ask for a quote. Or fill out our online quote form.
Only basic information will be needed at this time including:

Patient diagnosis
Sending location (city, state)
Receiving location (city, state)
Desired date of transport

Based on this information, a quote will be provided within 30 minutes of your call. This all inclusive quote includes the following:

Aircraft Costs
Medical crew (nurse/paramedic or respiratory therapist)
Ground transportation on both ends
Landing fees
All other miscellaneous fees (International fees, airport fees, customs, etc)

AirCARE1 will work with your insurance company and help make the determination of insurance benefits (we accept most insurances). If insurance does not cover cost of transport, payment options will be discussed.
Confirmation of Flight:
Additional patient information will be needed to include:

Name
Date of Birth
Weight
Passport (if flying International)
Patient Location at sending facility (hospital, room number, city, state)
Patient destination (facility, room number, city, state)

Desired date and time of transportation
Information regarding traveling companions will be obtained. Up to two traveling companions may accompany the patient based on the acuity of the patient. Small pets in cages may also accompany the patient. Traveling companion information required:

Name
Date of Birth
Weight
Passport (if flying International)

Determination of amount of luggage. Due to space restrictions, a total of two small carryon bags allowed. Any extra pieces of luggage unable to fit on the aircraft should be shipped prior to the flight
Ground transportation is set up by communication specialist
A flight itinerary is sent to the patent and family members to include:

Bedside patient pickup time
Approximate departure time at sending location
Flight time enroute
Any fuel/custom stops
Arrival time at receiving location
Day of Flight:
The medical report is received by the flight nurse from the sending facility
Aircraft is dispatched
The flight crew arrives at the patient's bedside

o Patient is loaded onto the AirCARE1 stretcher where they will remain until they arrive at the receiving facility

The patient is taken to the aircraft via ground ambulance accompanied by the flight crew
Patient and traveling companions are loaded onto the aircraft via the loading ramp
Patient and family members are provided holistic care during the flight
Once the aircraft lands, patient is unloaded and taken to the receiving facility accompanied by the flight crew
Flight nurse provides detailed report to the receiving nurse
All parties involved are updated throughout the flight
Our personnel, on board equipment, and aircraft interior are designed for the patient's comfort and sense of well-being. During your flight, the patient will be accompanied by a critical care flight nurse and paramedic or respiratory therapist who will provide a seamless transition, bedside-to-bedside from the current facility to the receiving facility. They will maintain the patient's current standard of care and will be able to administer appropriate medications during the flight.
This allows the patient to rest comfortably in a pleasant medical environment. Music and video entertainment are available. The patient and a family member will be flying on a Learjet 35A. This jet requires two pilots. The Lear 35A has a range of 2125 nautical miles which allows us to fly almost anywhere in North America nonstop. The Lear flies at an altitude between 41,000- 41,000 ft. which allows us to fly above most enroute weather and turbulence.
Asking a few questions, we develop an individualized plan for each patient, remaining in contact with all parties as we coordinate and arrange the following:
Flight Times
Airport/ Fuel Considerations
Ground Transportation
In-flight food considerations
International logistics