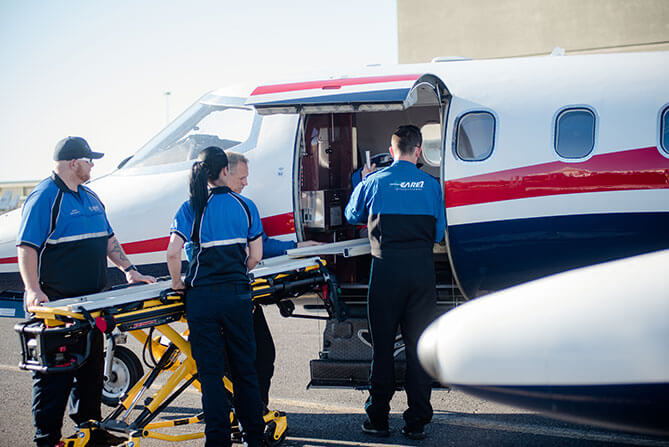 AirCARE1 owns a fleet of air ambulance aircraft and operates under our own 135 Air Carrier certificate. We have successfully transported thousands of patients to their destinations with a stellar safety record.
The Learjet 35A is one of the safest aircraft in the industry. With cruising speeds of over 500 mph and altitudes of 41,000-43,000 ft., our aircraft transport patients quickly and comfortably above any adverse weather conditions. Additionally, the Learjet 35A has the ability to land at smaller airports, providing closer access to the patient. Our air medical transport jets are equipped with wide body doors for convenience and safety when transferring heavier patients in and out of the aircraft. Once patients and family members are safely on board, the range of the aircraft allows for nonstop travel almost anywhere in the United States. Fewer stops provide for a safer and smoother ride for the patient.
Using a two pilot crew, we hire only the most qualified, experienced, and certificated Airline Transport Pilots (ATP). Our pilots undergo rigorous training annually at one of the most prestigious flight training facilities in the country. Our seasoned pilots ensure the safe transport of your patient into any destination airport.
Finally, our experienced mechanics maintain our aircraft to ensure mission-ready performance so your patient can be transported quickly and safely anytime day or night.